Abandoned Cart for Magento 1
Increase your sales and save time with an automated email assistant. Bring your customers back to your store to complete their purchases.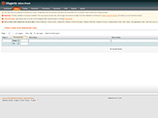 Overview
Abandoned Cart notifies the users authorized on your website that they added products to their shopping cart but didn't place an order. After getting an email notification, the user can quickly recover their shopping cart by following the link in the email and complete their purchase at your online store.
Encourage your customers to come back to your store and place the order. Grow your sales!
Save time with automated reminders
Send emails to encourage shopping
Use various customizable templates
Attach your offerings and discounts
Version 1.1.3
Compatibility: Magento Open Source (CE)
1.7, 1.8, 1.8.1, 1.9, 1.9.1, 1.9.2, 1.9.3
Features:
Automated Emails
Detect abandoned carts and send automated emails to the authorized users
Customizable Templates
Set up and customize ready-to-go email templates for your follow-ups
Link Generator
Send temporary links for each abandoned cart of the authorized users
One-Click Restoring
Offer just two clicks to restore the shopping cart: open the email and follow the link
File Attachments
Attach your offerings, discounts, and coupons to grow customer loyalty
Free Support
Ask your questions about the extension and use our free updates for Magento 1
Benefits for You:
Get more orders
Remove all "I'm-not-sure"s and remind your customers about their wants.
Something distracted your customer – earn their attention again.
Save your time
Set up your automated email reminders. You don't need to send emails manually – our automated assistant will take care of that.
Sound personally
Customize your email template with your style and tone of voice.
Send personal messages with relevant offerings.
Increase your sales
Bring customers back to your store and see additional purchases.
Take a second chance and convince them that your product is the best.
Release Notes
1.1.3:
Compatible with Open Source (CE): 1.7 1.8 1.8.1 1.9 1.9.1 1.9.2 1.9.3
Stability: Stable Build
Description:
Bug fixes and minor improvements.
1.1.1:
Compatible with Open Source (CE): 1.7 1.8 1.8.1 1.9 1.9.1 1.9.2 1.9.3
Stability: Stable Build
Description:
Customized email templates will draw customers' attention to their abandoned carts.
The customer will quickly restore the abandoned cart by clicking the restore link in the reminder email.
The extension also allows attaching discount coupons to any of the emails.
Support
We are glad to help you grow! If you have any questions, need assistance with an extension, or want any customizations, please contact us.
Do you need any help or have questions?
We are glad to help you grow with our product