14 Steps to Protect Your Ecommerce Business From Cyberattacks
Have no time to read?
I'll read
Security should be a top priority when running an eCommerce business. Online scams can quickly put you out of business, and you can't control them in any way. eCommerce sites are always one of the top targets for cyberattacks. eCommerce sites are a combination of personal and financial data. The cost of data breach or loss can be very high, even before the loss of the enterprise. eCommerce cyberattacks can quickly damage a business's reputation and violate customers' privacy.
And the worst thing is that as soon as a violation occurs, you will no longer be able to return your customers or get new ones. That is why the most important thing is that your customers feel safe. That is why safety is a priority.
We will tell you about the most common cyber attacks, provide cyber security statistics, and tell you what methods to use to prevent them and how to protect your eCommerce business from intruders. So enjoy the article and catch ideas.
What Is eCommerce Security?
eCommerce security protects your website from cybercriminals trying to steal your customers' personal information or website content. The list of eCommerce cyber threats includes hacks, data leaks, phishing and other threats.
eCommerce cyber security includes several different aspects:
Data security: This protects customer data, physical addresses, names and credit card information.

Security of payments: one of the most important aspects is ensuring that online payments are safe and protected from any hacker intrusion when financial transactions occur.

Website security: protection against hacks and attacks on your store
Some Cybersecurity Statistics 
34% of businesses believe that cyberattacks or privacy breaches are the most serious digital threat from outside by BDO

34% of retailers are afraid to switch to e-commerce precisely because of cyber attacks by BDO

When data is compromised in an attack, 42% is payment information and 41% is personal data by Verizon

 

24% of cyberattacks target retailers, more than any other industry by Trustwave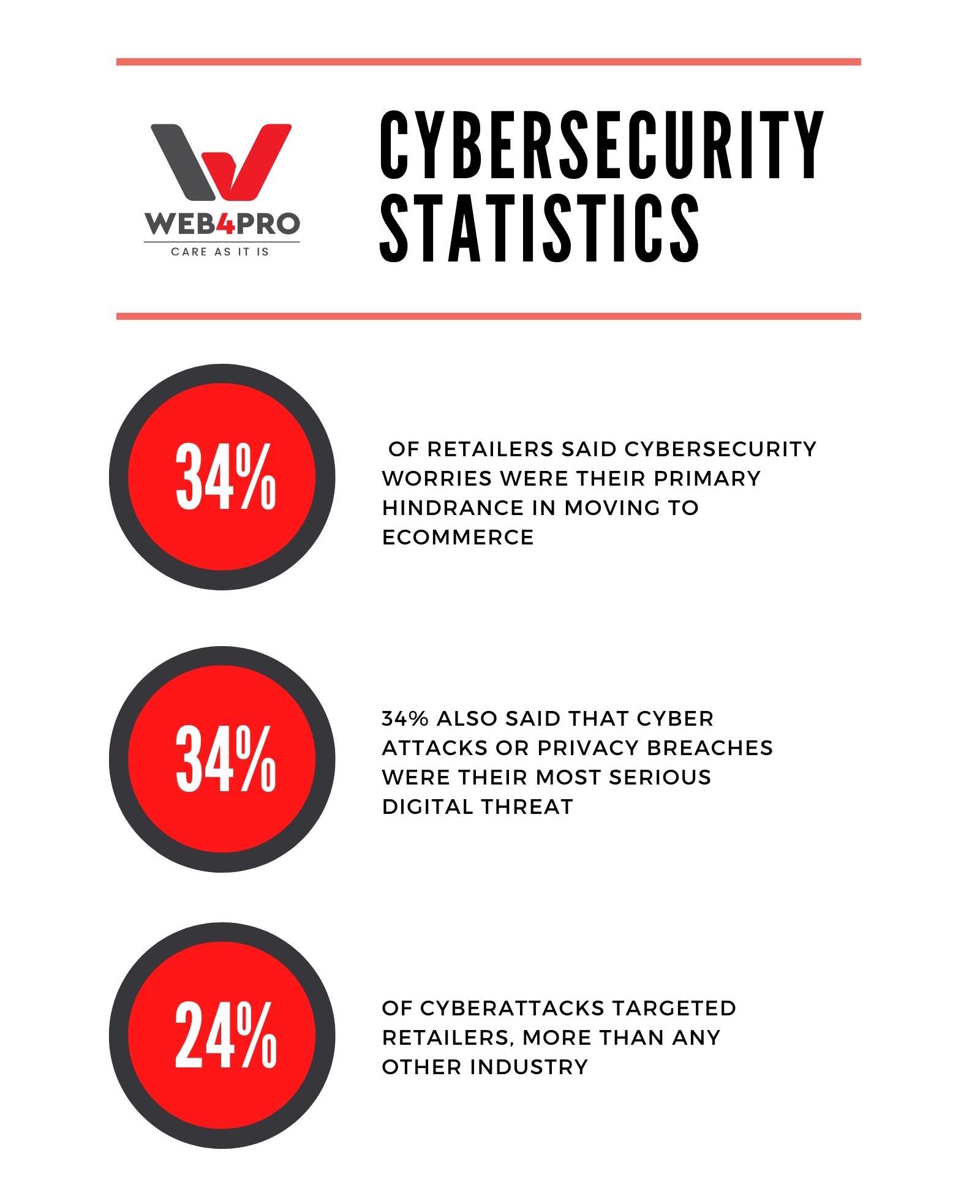 The Most Common eCommerce Security Threats
There are quite a few eCommerce risks that you need to protect your online store from: money theft, phishing attacks, website hacking, misuse of personal data, insecure service delivery, and card fraud. We have covered the most common problems:
Financial Fraud
Financial fraud has been in the online business since its inception. Hackers make unauthorized transactions and erase traces, causing significant damage to the business. Some scammers submit requests for fake returns or refunds. Refund scams are a common financial scam where stores refund money for supposedly purchased or damaged items.
Internet Spammers
It is not uncommon for Internet spammers to leave comments on blogs or fill out contact forms where they leave infected links to harm businesses. They can also send infected links in private messages to company communities on social networks.
Phishing
Phishing is another security threat when hackers disguised as company representatives send messages to your customers to trick them into revealing sensitive information or lure customers to a fake version of your website.
SQL Injection
SQL injection targets a website's database and retrieves its records. Attackers can often use SQL injection vulnerabilities to bypass existing security measures. This type of attack can also be used to change, delete, or add records to a company's database.
DDoS Attacks
DDoS and DOS attacks are aimed at disrupting your website. In such attacks, numerous requests are sent to your servers. The goal is for the site to go down.
Password Selection
The goal is to pick up a password for the site and gain access to the administrative panel of the online store. Special programs are used to select passwords.
Viruses and Trojans.
This is one of the most serious threats to network security when attackers can infect a site and gain access to the confidential information of shoppers.
This is not the whole list of cybercrimes that can happen, but each can significantly harm your business.
Ecommerce Website Security Tips
We have put together a list of essential tips for you to help you secure your eCommerce website.
1. Secure Web Hosting and the Right Ecommerce Platform
The most important thing for the safe operation of eCommerce sites is choosing the right platform for your needs and selecting a web host. More often than not, eCommerce website builders already have security measures. However, not all platforms and hosts are the same or even equal. The best option is to find the right combination of host and platform that can meet all your requirements and provide complete protection against the most common threats such as malware and SQL injections.
2. Get an SSL Certificate
Installing a certificate will help encrypt all your customer transaction data and help prevent data leakage. You can obtain this certificate from a hosting provider or a third-party SSL certificate provider.
In general, an SSL certificate is mandatory for all eCommerce websites by the Payment Card Industry (PCI) data security standard.
Any eCommerce business must comply with PCI security standards.
3. Back Up Your Website Data Regularly
Of course, backups won't protect you from attacks, but help you recover from a data breach or hacker attack. And it will also help against the loss or capture of information. When updating, we advise you to make a backup copy of the website. And also at least once every three days, and preferably every day. We recommend you choose a platform and hosting that offers automatic website backup.
4. Update Your Software Regularly
Update your eCommerce platform, payment processor, and security software promptly. Check that they are all working correctly. Also, ensure your CMS, plugins and extensions, themes, operating systems, tech stack, etc., are up to date.
5. Promote Strong Passwords
If you require participants/customers to create passwords, emphasize the importance for clients to develop complex passwords. We recommend giving examples and specific criteria for a strong password. All of this will help you keep your accounts secure.
6. Watch for Suspicious Activity in Your Store
Use Google Analytics or any other analytics tool to track activity in your store. The main thing is to respond to the appearance of unusual activity quickly.
7. Entrust Payment and Data Processing to Specialists
The correct way not to lose customer data is not to store it unless necessary. The right option would be to use a third-party encrypted checkout tunnel for payment processing. Most popular payment gateways are completely secure. The main thing is to choose a payment platform compatible with your web hosting and eCommerce platform.
8. Perform Regular SQL Checks
SQL injection is one of the most common ways to hack sites and web applications that work with relational databases. This method is based on introducing arbitrary SQL code transmitted by an attacker into a database query executed by an application. SQL injections are one of the varieties of "code injection" attacks. Regularly checking for vulnerabilities will help avoid problems because SQL injections can manifest themselves in any form of fraud. Depending on your chosen platform, you will have a list of software options to help you protect and track these injections.
9. Use an Ecommerce Firewall
A firewall prevents intruders and malware from accessing your computer over the Internet. The firewall only allows secure Internet connections to your computer and blocks intrusions from the Internet. It will protect your site from XSS, SQL injection and fake requests. A firewall will help protect your website from hacking, including brute force attempts. The main thing is to find the right one suitable for all your requirements.
10. Control Administrator Rights Carefully
With your company's growth and the team involved in vomiting with the site will grow, do not give access to team members who do not need them.
11. Check Third Party Plugins and Apps
Check all new plugins and applications you install from third-party sources, check those plugins that are already there, and check if you use them.
12. Get PCI Compliant
PCI was created in 2006 by Sia Visa, Mastercard, American Express, Discover and JCB to manage security standards and enhance security throughout the transaction process. The coalition has established a set of guidelines, PCI-DSS (Payment Card Board Data Security Standards), that businesses must follow to avoid fraud. Accordingly, PCI compliance is mandatory if credit card payments are accepted, so if the requirements are not met and followed, you may face fines, fines, or even prevent the business from accepting credit cards as payment in the future. Hence the importance of PCI compliance for eCommerce.
13. Train Your Employees on Cybersecurity
In most cases, cybersecurity breaches are due to human error. We advise you to educate your staff in advanced cybersecurity techniques.
Being informed about new threats is an excellent way to protect yourself from them
As you can see, there is a long list of things you can do for your eCommerce business to keep yourself and your customers safe from cyberattacks.
Summary
For a quality business in eCommerce, you must pay special attention to cybersecurity. Cybercrime is getting more sophisticated every year, so it's essential to be prepared and aware. Implementing suitable security measures will help protect your data and your reputation in your industry. By following our advice and staying up to date with the cybercrime world, you can be sure that your customers will be safe when shopping in your store. It is also an excellent decision to entrust security issues to a reliable partner. Therefore,
we
advise you to implement at least basic security for your store.
Article rating (6 Reviews)
Do you find this article useful? Please, let us know your opinion and rate the post!