Whenever we think about shopping behavior or shopping habits, the smoothest and first thing that comes to mind is discounts. In various forms, it can be Black Friday discounts, birthday discounts, secret promo codes, or coupons. Admit it to yourself for sure; everyone has received a personalized promotional code from the store for the goods you are interested in; you probably thought about whether to buy it now when there is an opportunity to get a discount. Promotional discounts and promo codes give the impression of urgency and a reasonable offer. Most importantly, they encourage more significant purchases and improve the shopping experience.
According to RetailMeNo – 80% of shoppers made their first purchase from a brand because of an offer or a discount; this means that people are now less of one brand and ready for good deals. Offering a good deal can quickly turn a person from an internet surfer into a buyer. Adding coupons to your site can be a natural source of income.
The only problem is that businesses sometimes misuse promo codes; if you want to apply promo codes to your eCommerce business, this article will show you how to do it right. After all, the main thing is to avoid falling into the trap, build the right strategy, and ensure that the coupons you use to increase your profits.
What Is Promo Code?
A promotional code is a discount and promotion the store provides to its potential and existing customers. In fact, these are combinations of letters and numbers that customers enter at the stage of placing an order to receive a discount on a service or product on the Internet; this can be an additional gift from the company, free shipping, or any other form of discount. Such a sequence can often be associated with the event for which this discount is provided, for example, Welcome15, and sometimes it is just a set of numbers and letters.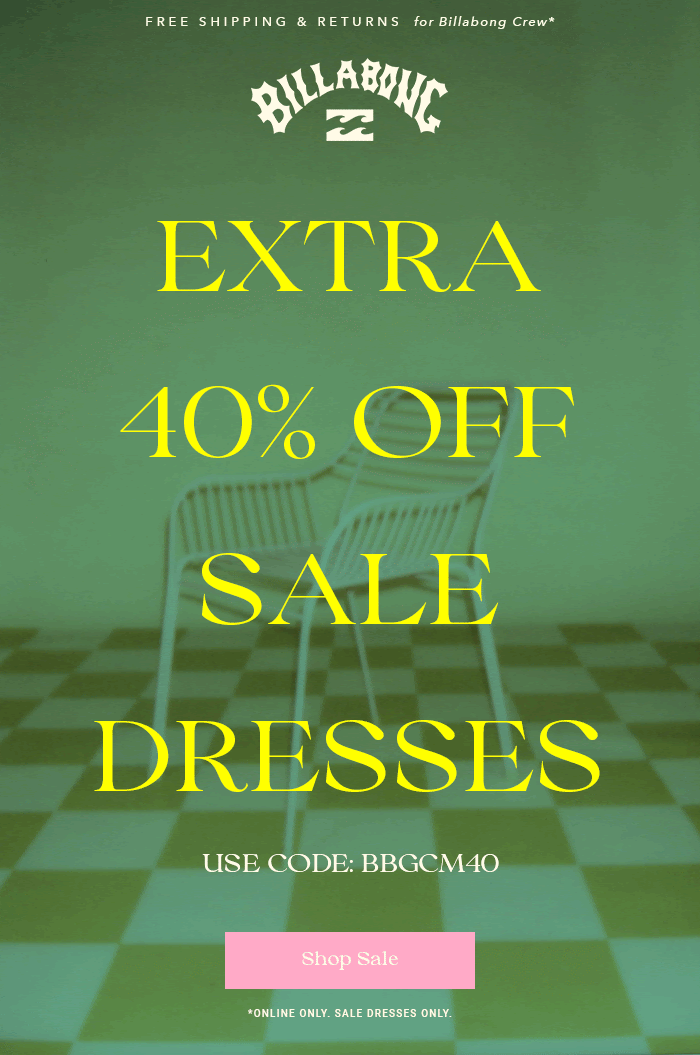 Such coupons are mainly entered on the checkout page; this field can be called differently, such as code, voucher code, or special offer code.
I would like to note that the regular sending of coupons to a business practically costs nothing, however, it helps to increase the average cost of goods and attract both new customers and new purchases.
There are three main categories of promotional codes in the voucher system:
Public Promo Code
Vouchers that are available to everyone, most often such promotional codes can be used only once. These protocols are posted for public viewing, and they can be found directly on the site, in social networks or through your influencers. Such vouchers are often aimed at attracting new customers or returning ones.
Private Promo Code
Promo codes of this category are used specifically for certain groups of people who are already customers and are grouped under different types, for example, a promotional code for a birthday or for those who have not made purchases for a long time or were interested in a specific product that is currently discounted.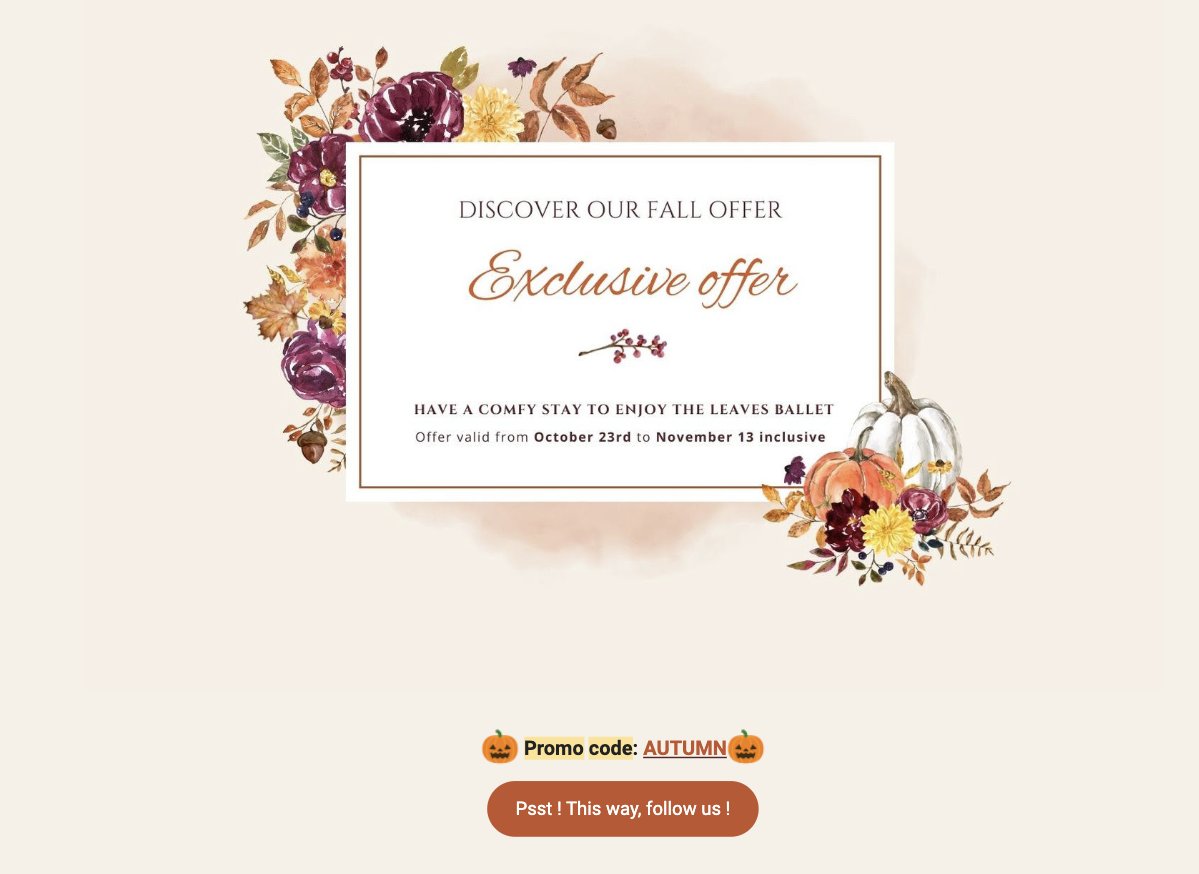 Secret Restricted Access Promo Codes
Limited experience category vouchers are used to communicate with an individual customer. Most often, such vouchers are used in extreme cases to hold back or apologize for a bad user experience with the site; examples of the use of such vouchers can be a voucher for unsuccessful delivery, bad sales experience, defective goods, and so on.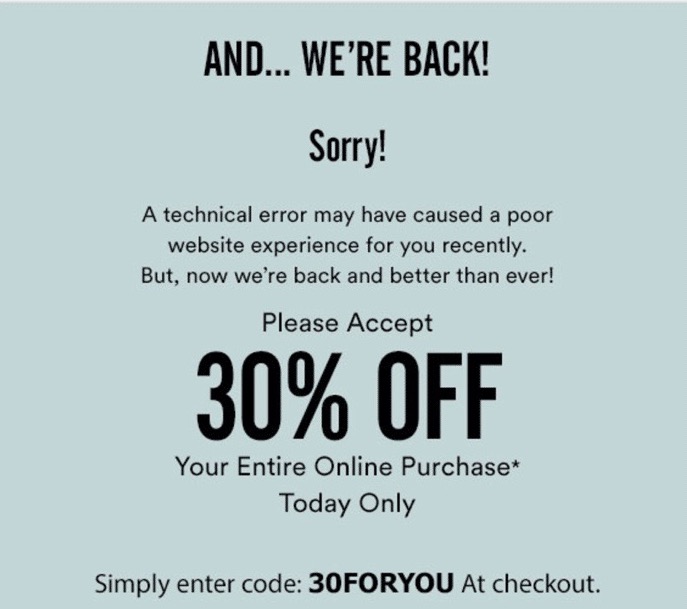 This solution makes online shopping more attractive and less costly for customers. Your customers can select the coupons they are interested in and add them to their carts to apply them at checkout.
What Are the Best Coupons to Use?
To ensure your customers get what they expect and outperform the competition, use coupons for your business. Coupons help increase the number of customers, and of course, this has a positive effect on the sales of your online store.
We have prepared coupon types to improve your eCommerce user experience.
Percentage coupons for holiday sales encourage shoppers to return to abandoned carts and complete purchases or return to your store after a long absence.
Percentage offers are coupons, thanks to which the main database with customer emails is created. The easiest way to get the desired result and remind yourself. That is, the client will look through your store or see an unfinished order in his basket after a long absence. And complete it.
Free Shipping Coupon
It is always pleasant for customers to receive free delivery because when collecting a basket, the client never thinks about the fact that the final amount of the order, then a certain amount for delivery services, will be added; we already said in one of our previous articles that this factor often affects the number of abandoned baskets. Consider using free shipping coupons for those who abandoned their shopping cart; if you have free shipping, offer a coupon for express shipping (if possible), making your offer very attractive.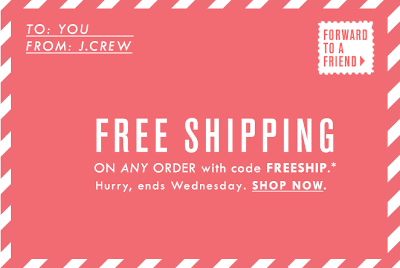 Free Gift with Purchase
Everyone loves pleasant surprises and gifts. Cosmetics sellers use the strategy of free gifts according to the fuel protocols; with the help of such a strategy, brands increase the average amount of orders and motivate buyers to make a purchase now so as not to lose such an offer. A vivid representative of this strategy is the Yves Rocher brand; most additional sales are made thanks to other gifts for a certain amount, and the number of different gifts increases along with the increase in the check amount for the order.
If you're a brand that can use this strategy, have delicate items or new product samples to include in your orders, create a coupon for a free gift with your purchase and share it with your email list and social media followers.
Promo Codes Based on Loyalty Status
Often the motivation to buy more is a way to earn brand points, especially when these points provide an opportunity to get a real benefit. For example, Kheil's cosmetics store allows customers to receive additional discounts, free shipping, gifts, and more. Such an offer motivates people to use their loyalty points and purchase more in your store. By the way, we recently published an article about useful features of Kheil's cosmetics store, and there are a lot of valuable things for any business.

BOGO Coupons
Coupons such as BOGO (buy one get one free) are suitable for stores in many areas and for certain times of the year. Cosmetics stores, grocery stores, decoration stores, and many others can offer such coupons. Also, such coupons will be very relevant for various holidays such as Christmas, Halloween, and Boxing Day.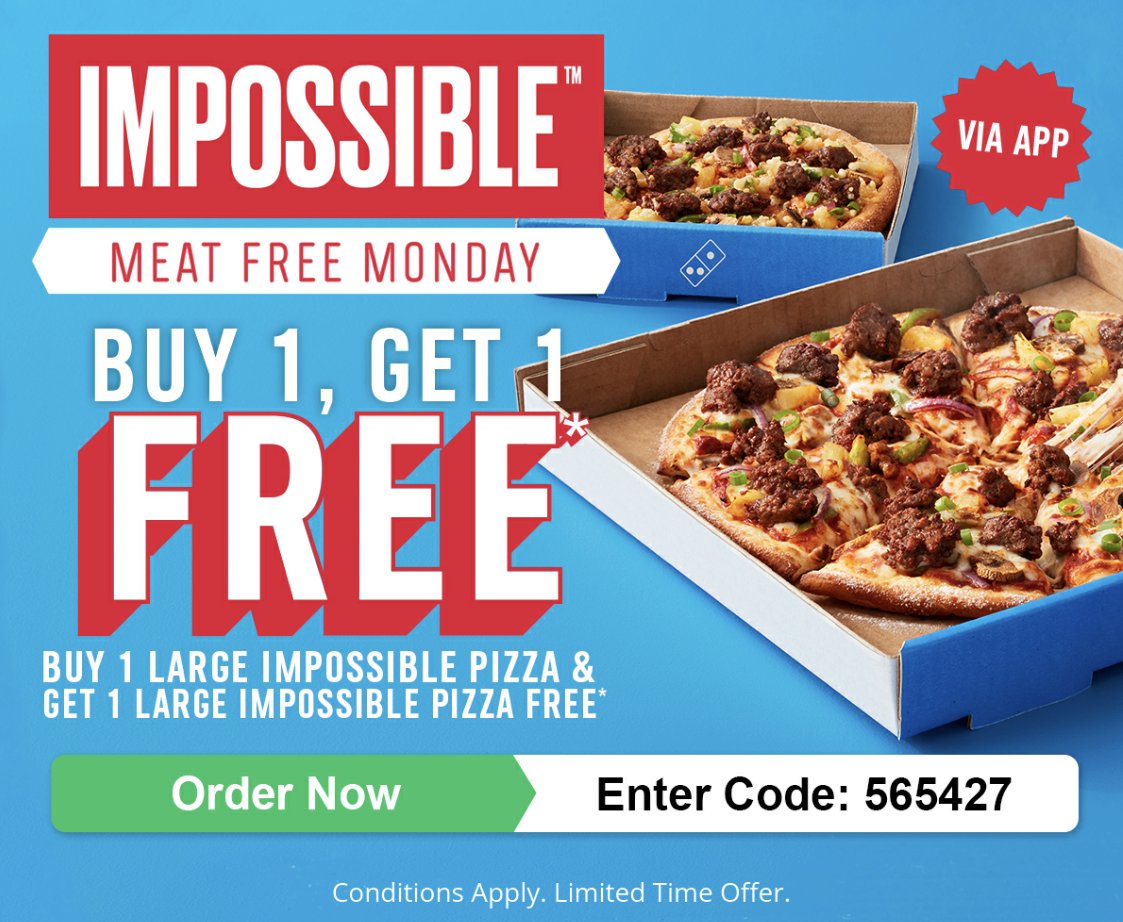 Gift Card with Purchase
To stimulate sales, you can offer customers gift cards for each order – this card can be both for certain goods and services and for everything the brand includes. Such coupons are often used for advertising new products and services and attracting new customers.
Mobile Coupons
You know perfectly well how relevant mobile sales are, and most use the phone as the main device for everyday use. Therefore, remember to share coupons via SMS, chatbots, and push notifications in applications.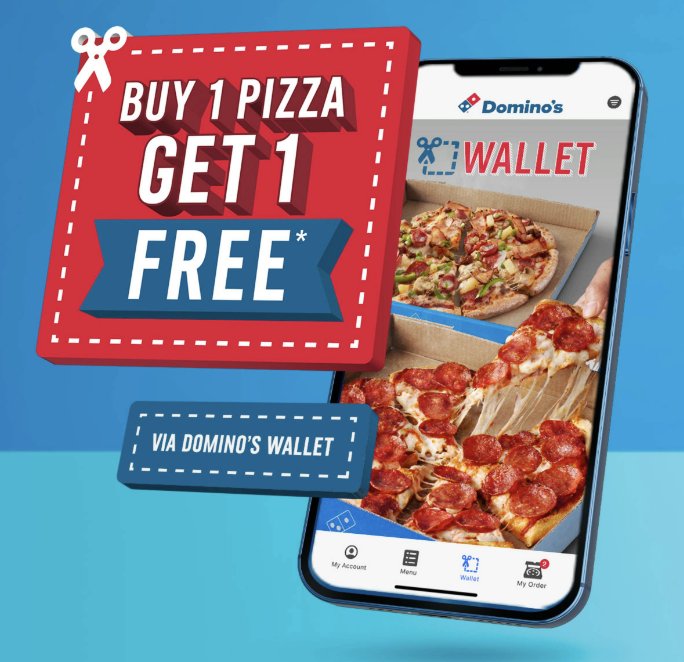 Coupons can easily increase sales and grow your online business if you apply them correctly.
How to Place Codes on Your Site?
You might think it is not easy to place such a feature on the site, but it is not. We will tell you how to do it, so it does not scare you.
Shopify and WordPress (WooCommerce) have similar options for placing coupons on your site. To do this, you need to go to the admin panel, select "Add Coupon", and then choose from the options that include:
Discount percentage
Fixed discount on the amount of the basket
Fixed discount for goods
Coupon value
Allow free shipping
Coupon end date
For Magento, the story is even more straightforward in the admin section, under the category Promotions -> Shopping Cart Pricing Rules. The only thing to do is add a new rule and ensure it is enabled. You can choose who is allowed to access the promotion. If you also do business with wholesalers, you can exclude them from the promotion and make it available to the general public only.
You will then be asked to provide the discount details when your customer enters the correct code at checkout.
All eCommerce platforms provide the option to use coupon codes since almost all medium to large sites now use their discount codes; think about them, customize them, test them and see which one works best for you.
Benefits of Promo Codes
Pros of Using Promo Codes
The main advantage of using promotional codes is that you give customers an additional reason to buy from your online store, which means you will receive more income. In addition to making customers even happier when they make a purchase, promo codes can help you mark the progress of your marketing strategy. You can place a promotional code on different sites and track which attracts the most traffic and where your audience perceives ads best.
In addition, the protocols can encourage your customers to participate in your advertising campaigns, knowing that they will receive additional benefits for themselves, more likely that they will want to take the time to write a review or take a survey, or you will be able to increase your customer database, as people will leave your contact information for the opportunity to receive a discount, which means that promotional codes can add value to your marketing campaigns.
Offer Promo Codes as Lead Magnets
Have you noticed that almost all eCommerce stores offer a promo code in exchange for an email address? Essentially, the lead will give you their email address (sometimes other details), show you that they are interested in your product, and you will provide them with their gift.
To make the most of this tactic, gather as much basic information as possible to create a fantastic email marketing campaign.
Promote Customer Loyalty With Promo Codes
Retaining existing customers is much more complicated than attracting new ones, but it is more financially profitable. Therefore, give your existing customers the motivation to return to you. With the help of promotional codes, you can convince customers that you value them more than others.
Celebrate the Holidays With Promo Codes
The holiday period accounts for 91% of consumers who plan to spend the winter holidays, meaning they plan to buy gifts, and you can easily entice your customers to buy your products by thinking through your strategy correctly with the right promo code. The main thing is to remember to carry out an advertising campaign during the whole period to attract people's attention. By the way, we have an article – how to prepare your site for the holidays.
Cons of Using Promo Codes
We've already discussed the benefits of using coupons, how effective they are, and how they can help you, but there are still a few downsides.
Abandoned Carts
The presence of a promotional code field can cause your client to FOMO (Fear Of Missing Out); the client sees that he could spend less and leaves to look for coupons on the Internet. Many who do not have a coupon or did not find the right one can leave, thereby ruining your conversion, which will affect brand perception.
Lower Perceived Value and Negative Brand Association
Take promo codes as your primary strategy and start using them too often. Customers will no longer come to buy your products at the total price. The GAP brand faced such an error. Brand hour offers a discount of 40%, sometimes even more, so customers consider the price overpriced by 40%. If they decide to buy something at half the price, this affects their ability to maintain their premium prices.
Delayed and Less Profitable Sales
Customers get used to the fact that you often use discounts and your customer base only purchases once you offer them a new stream of discounts.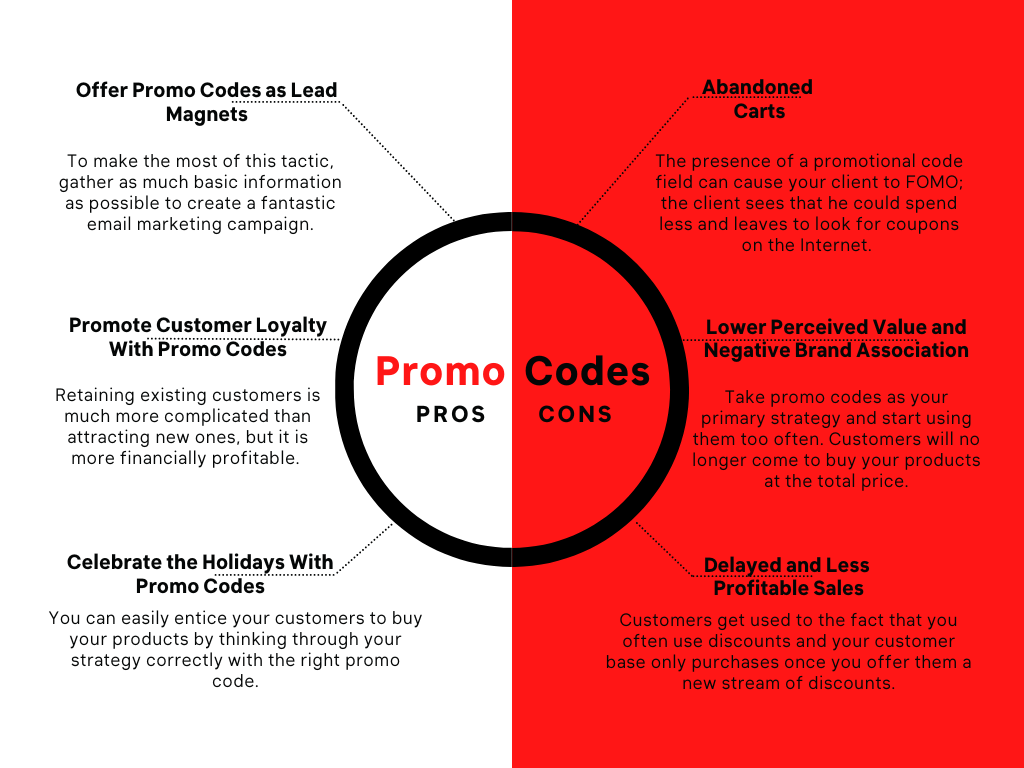 Is It Possible to Mitigate the Disadvantages of Coupons?
Now you know several pitfalls your business can fall into and reduce your profitability and conversions. Still, some factors will help you mitigate these shortcomings and refine your strategy.
Only Offer Discounts on Certain Events
To become such a brand, save such offers for a specific time of the year (perhaps when your sales need a boost or you need to reduce inventory). Or, only lower the price of items that don't sell as well or as quickly.
Hide Coupon Field
You generally don't use promo codes for your business but add them only in exceptional cases. In that case, it's better to hide the promo code field and open it only when a user clicks on one of your discount links or during the active use of promo codes. Another strategy businesses use is to create additional unique sites where you can get a discount, but only if you have a link.
Paraphrase
We have already said that a pronounced discount field can easily scare away potential customers by missing the opportunity to find a possible promotional code and spend less, so to prevent this, try replacing the classic promotional code field with, for example, a gift card or gift, such a field is not will have a significant impact on consumers and at the same time retain the ability of customers who have this promotional code to use it.
Now the demand for discounts is gaining momentum more than ever. Customers do not miss a single opportunity to take advantage of them, but the main thing for a business is to build the right strategy and not harm your brand and conversions; try using the mitigating actions described above.