Choosing a CMS Platform for Your Store in 2020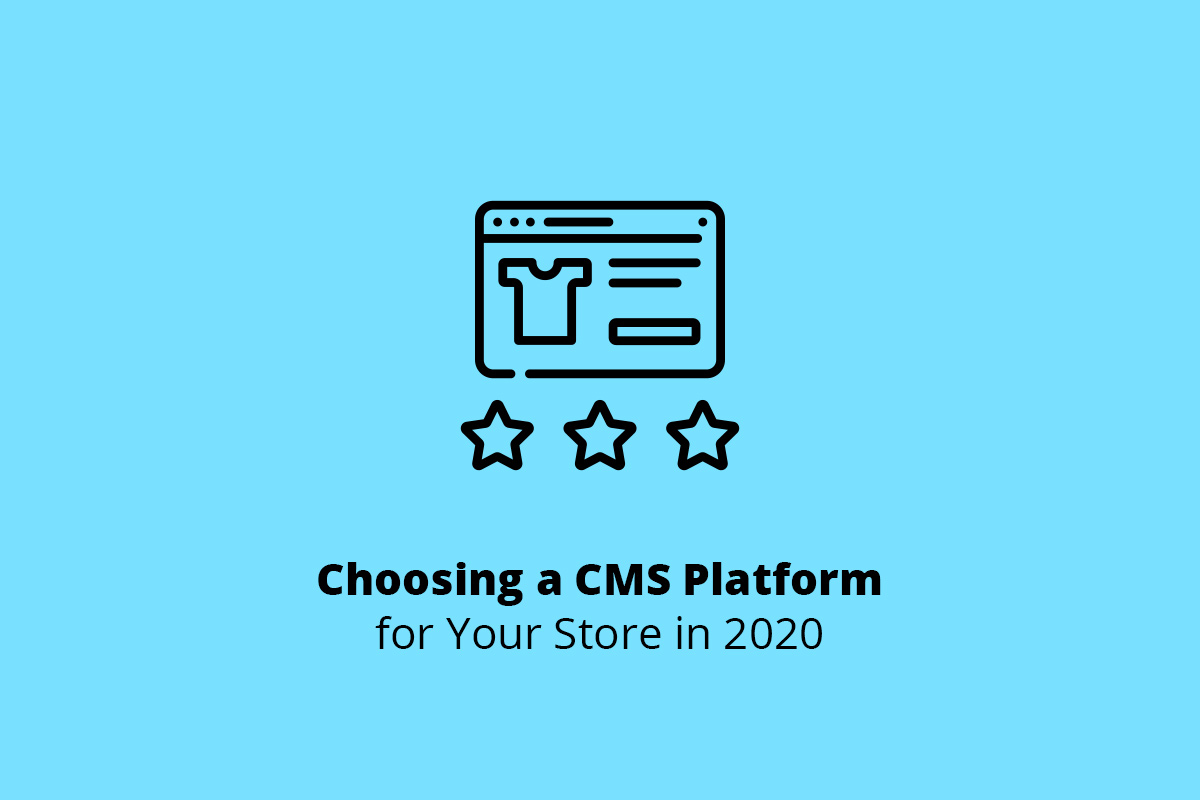 Have no time to read?
I'll read
When planning to start an online store in 2020, you may think about choosing a CMS platform. But doing that can be a tough task sometimes because there are a lot of options out there. Which one best suits your goal? Which one has a reasonable price but also offers the features you need?
Today's article will guide you on how to get the selection process done right.
Why Use a CMS?
A CMS (content management system) is where you can hold and manage the digital content. It gives you templates or themes to customize the design, colors, style, etc. of your website.
Here are four reasons why you should use a CMS:
Flexibility: You're free to customize the colors, add or remove pages, create email marketing, or install extensions or plugins. You can change the theme for your website without disrupting the content.
Accessible content management: You don't need to know HTML or code to work with CMS. Most popular CMSs support intuitive and easy-to-use layout editors.
Safety: You can go back to your CMS dashboard and edit content as much as you want. Everything is safe in there.
Automation: CMSs, like WordPress, apply some intelligent automation mechanisms. For example, it autosaves a draft whenever you upload your content. Or, it'll publish the content at the time you set before.
CMS Advantages
Let's talk about some of the specific advantages that a CMS might offer. These advantages are also the features that you should consider when choosing a CMS platform.
Easy to Use
Most CMSs provide you with a powerful editor and a bunch of features, which makes your content looks top-notch.
SEO-Friendly
Using CMS gives you several benefits in the SEO game. When it comes to on-page SEO, a CMS platform allows you to handle HTML markup, permalinks, title tags, headings, and images.
Within Your Budget
Some CMSs offer reasonable pricing packages. Others are even free to use. You don't have to spend a lot of money to create your own store.
Allow Integration of Web Analytics
CMS allows you to log in to view performance metrics like traffic, referrers, keyword queries, page views, and more. This is a great way to track the overall performance of your website and react to its changes.
Picking the Right CMS for Your Website
Many CMSs have a lot of features, but the truth is you sometimes may not need more than a few. For this reason, you should do thorough research before making a decision.
Make Sure It Is Scalable
You should keep scalability top of your mind when choosing a CMS platform. Ensure the CMS you select can grow with you and support the functionalities you think your business will need in the future.
Choose a CMS That Supports Omnichannel
If you want to give your customers a better omnichannel experience, you should choose a CMS that supports omnichannel. It should allow you to learn from every customer interaction and identify visitors' intentions when they're in your store. Hence, you can create content in real-time to maximize shopper engagement.
Choose a UI That Is Intuitive
You should choose a CMS that is mobile and desktop- friendly. Everyone in your team can work with it on the go without any issues.
10 CMS Platforms to Consider
As said earlier, there are many CMS platforms for you to choose from. Below we handpick the top 10 for you, along with their price, amount of stores, main benefits, etc.
WordPress
Price: Free.
Amount of stores: 1.
Popular companies that use it: TechCrunch, Sony Music, BBC America.
Main benefits: Highly customizable features, low-cost server maintenance, tons of plugins.
Best for: blogging, eCommerce, capturing leads, etc.
Drupal
Price: Free.
Amount of stores: 1.
Popular companies that use it: Tesla, Pinterest Blog, Lush.
Main benefits: Flexible custom post creation, comprehensive taxonomy system, high-tech security.
Best for: eCommerce.
Joomla!
Price: Start at $29 per 6 months.
Amount of stores: 1.
Popular companies that use it: IKEA, Peugeot, Northern Railway UK.
Main benefits: Powerful PHP applications, multilingual support, and unique templates.
Best for: Complicated websites, not casual blogging.
Magento
Price: Free.
Amount of stores: Unlimited.
Popular companies that use it: Christian Louboutin, Helly Hansen, and Urbanista
Main benefits: Fast site loading speed, multi-website options, SEO optimization, and sales features.
Best for: eCommerce.
Squarespace
Price: Start at $22/month.
Amount of stores: 1.
Popular companies that use it: Tudor Watch, Rodarte, Lumio
Main benefits: A massive collection of design templates, high security, 24/7 customer support.
Best for: eCommerce.
PrestaShop
Price: Free.
Amount of stores: Unlimited.
Popular companies that use it: Harry Fay, Charuca, Atelier Privé.
Main benefits: Optimized product page layout, powerful navigation, intuitive interface.
Best for: eCommerce.
Wix
Price: Free.
Amount of stores: Unlimited.
Popular companies that use it: Tobias Becs, Good Feeling Goods, Cuts & Bruises
Main benefits: Massive template collection, intuitive drag and drop interface, fast loading speed.
Best for: Small businesses, restaurants, online stores, and artists.
Shopify
Price: Start at $29/month.
Amount of stores: Unlimited.
Popular companies that use it: Kylie Cosmetics, Rebecca Minkoff, Frank Body
Main benefits: Professional website builder, fully-customizable templates, and media assets.
Best for: eCommerce.
Umbraco
Price: Free.
Amount of stores: Unlimited.
Popular companies that use it: Vueling, Suffolk University, Inspirato
Main benefits: Flexible CMS, intuitive editing experience, Umbraco cloud.
Best for: eCommerce.
Sitecore CMS
Price: N/A.
Amount of stores: Unlimited.
Popular companies that use it: GAF, Thule, BMI Group
Main benefits: Drag and drop feature, multilingual content, responsive design, headless CMS.
Best for: eCommerce.
CMS Security Comparison
Here is the comparison among the above CMSs about security. Use when choosing a CMS platform, but remember that no CMSs are 100% secure! However, some of the options provide robust security for their platform.
| CMS | Best security features |
| --- | --- |
| WordPress | 1. Automatic security update without the site owner involved. 2. HTTP requests to prevent access to loopback and private IP addresses. 3. Use of the cryptographic tokens to confirm the intent of action requests from authorized users. 4. Robust authentication system to prevent access from authorized users. |
| Drupal | 1. Provide secure access through a wide variety of password policies, including 2-factor authentication. 2. Give administrators complete control over who can see and who can edit a site. 3. Support a strong database encryption system. 4. Limit the number of login attempts from a single IP address to protect against brute-force password attacks. |
| Magento | 1. Innovative framework to prevent your site from attacks. 2. Provide X-Frame-Options HTTP request header so your site will be safe from clickjacking attacks. 3. Support Magento Admin URL to identify attacks at specific locations. |
| Joomla! | 1. Offer 2-factor authentication and extensive access control levels. 2. Release patches to prevent the attacks. |
| PrestaShop | 1. Release patches to fix issues and enhance security for users' stores. 2. Users can send their issues and get instant updates about solutions. |
| Wix | 1. Perform regular internal security audits to maintain ISO/PCI security certifications. 2. Send emails about changes made to users' accounts. 3. Use Transport Layer Security (TLS) encryption to help protect your online financial transactions. 4. Payment Card Industry Data Security Standards (PCI DSS) compliant |
| Shopify | 1. Shopify's compliance covers all six PCI standard categories and applies to every store using the platform. 2. Take care of updates and security matters in the background. 3. Provide a backup system in place. |
| Umbraco | 1. Provide password rules and a password reset option on the login screen. 2. Automatically log users out if they don't perform any action at a specific time. 3. Support Umbraco Cloud to automatically send the latest bug fixes and security features to users. |
| Sitecore CMS | 1. Use the .NET security engine to protect users' database. 2. Install a three-line defense model for security operations, governance, and assurance. 3. Provide 24/7 security monitoring, vulnerability management, and external penetration testing. |
The Selection Process
When choosing a CMS platform, you should have a strategic selection process. Don't jump into a CMS, and quickly determine it might be your ideal choice. It's better to take some time to make a plan and check options.
Looking from a Business Perspective
A scalable CMS is a significant investment that affects your budget. But this investment will pay off soon, and it's crucial to your company's long-term success.
Always listen to the opinions of all stakeholders. But don't forget to keep your business perspective in mind.
The Vision of the Project
Knowing exactly what your customers want. Does your new CMS fill the gap between you and your buyers? Does it help you deliver content to them effectively? Don't follow the masses unless you know that investing in a CMS will benefit your store.
Strategic Goals vs. New Tech Stack
Before investing in a CMS, think about how it'll help you solve your existing problems. You should buy a new CMS when you understand what the greatest impacts it'll bring to you. There are many lightweight tools out there that can help you carry out marketing tactics. Try to extend your solutions.
Buyers' Persona
What kind of content do your buyers need? How does a CMS deliver that content to them? How do they interact with the CMS? Create a detailed persona of your buyers, and ensure your CMS helps you manage content that is useful to their persona. Also, creating buyers' persona will help you make your business strategy more client-oriented, which leads to more sales and increases customers' loyalty.
User Scenario for Testing CMS Options
After you have a user scenario, remember to use it to test CMSs. Ensure the demos of your chosen CMSs cover the same usage scenario.
Build Your Dream Store
Here is the stage when you know what you want from a business perspective. You've accessed all risks, talked to the team and chose some options for your future store. Now, you need to find the right partner who will create you a remarkable store, and make all the work from a technical side. Below, we highlighted the main points of this process.
Find the Development Partner
If you don't have the in-house development team, you want to find a reliable and competent partner or agency. They will help to come up with the best option and hold all the development process. They also will ensure that you know how to work with CMS, or they can provide you with ongoing support regarding technical questions related to your online store.
Write a Request for Proposal
An RFP helps to be both sides on the same page. This document shows your needs and objectives and helps service providers to demonstrate whether their experience fits your project goals or not. This will help you to ease the selection process.
Evaluate Agencies' Responses and Select One Vendor
Before you select a vendor, take a look at your top choices and rate how they meet your requirements in technical, functional, and business aspects for your future store development. Consider how much they share your values. Make sure the solution they offer will grow with your company and remain relevant to your needs.
Make a Step to the Beginning of Success Story
You've selected a company that will create a great store for expanding your business or starting a new path online. Now, you may enjoy new experience, and with the right team you can be sure that the entire process will be smooth and interesting for you. It can take a month and more. But in the end, getting the right CMS and develop a store will pay off in the end.
Summary
With a lot of CMS options, it's not that easy to pick a CMS. We hope that this guide will help you clarify big questions when choosing a CMS platform for your store, and guide you through the steps that should be taken before launching the store.
Article rating (11 Reviews)
Do you find this article useful? Please, let us know your opinion and rate the post!