eCommerce Professionals: Interview with Miodrag Lapcevic, CEO of Cubes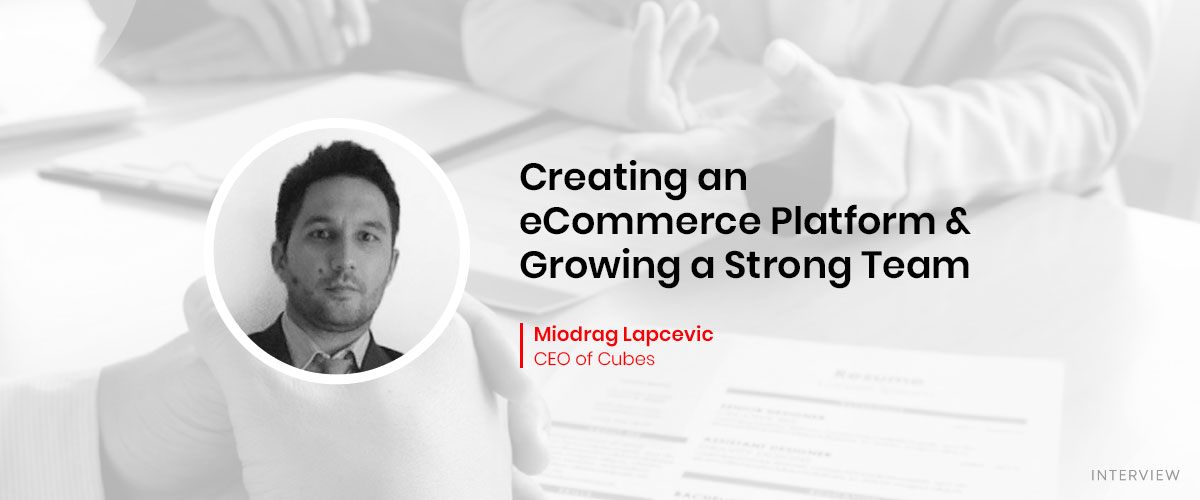 Have no time to read?
I'll read
We are starting a series of inspirational interviews with people and companies who achieved great success in the eCommerce industry and help grow powerful online brands. You'll see what drives them to grow, take challenges and become better for their customers, what values and beliefs help create a strong team and build a trustworthy brand.
Today, the heroes of our story are the Cubes – creators of the Shoppsy eCommerce platform – and inspiring Miodrag Lapcevic, CEO of Cubes. Cubes is a successful software development company based in Serbia. Since 2007, having their long story in IT and eCommerce, Cubes have been striving to become the leading IT company in South Europe, and they get it!
We asked Miodrag about the secret of their success and are glad to share our interview to inspire beginning and developing IT professionals. Meet Miodrag Lapcevic, and pick up great ideas for growth and development.
WEB4PRO: Miodrag, Cubes has an interesting story of software development projects in various industries. Could you please tell us more about you and Cube's company?
Miodrag: Cubes started out with the goal of combining all IT services in one place. We wanted to offer our clients quality products at a reasonable price. Our clients, partners and employees are at the center of our business. Our team works hard to ensure our clients' success because when our clients succeed, we succeed. Transparency and open communication guide our every step throughout the entire process. We care about establishing long-term relationships with our clients, which is why we focus on giving our clients exactly what they need to improve their business. Over the years we've had a lot of interesting projects. Those projects were a starting point for the custom solutions we've developed. On top of the development services we offer, we also have our custom eCommerce platform "Shoppsy", our custom News CMS, as well as our custom ERP solution.
WEB4PRO: Sounds really interesting! And what are the key strengths of Cubes company that help you go ahead and grow as professionals?
Miodrag: The advantage Cubes has over other IT companies is that we educate our own talent. Cubes formed a school that has, so far, successfully produced 6 generations of web and mobile developers. In fact, most of our employees today are Cubes School graduates. "Cubes School" is a project we are passionate about and extremely proud of. It allows us to not only contribute to Serbia's economy but also have an endless supply of extremely intelligent and hardworking developers, which is what differentiates us from other companies.
WEB4PRO: Helping grow professionals is always an inspiring process. Miodrag, what inspires and motivates you the most while working at this company?
Miodrag: Definitely the people I get to work with every day…..and the work we are able to produce together. Everyone is invested in the company's success and committed to doing the best possible job. We are not a big company, so the atmosphere here is really like that of a big family, and we try to extend that to our clients as well. Especially the ones that have been with us from the very beginning.
WEB4PRO: Can you remember some of the most interesting clients and eCommerce projects you had? What was the most interesting or challenging?
Miodrag: We've had many interesting projects over the years, that's for sure. Delivering a platform for fashion brands is a lot of fun, and we did a bunch of those. One project I'd maybe put in front of the others, that was a bit out of our comfort zone at the time, was the eCommerce platform we implemented for Ahold Delhaize and one of their supermarket chains in Serbia, "Maxi". It was one of the first major clients we've had, and the platform they asked us to build was complex because of the variety and volume of products they were offering. However, that project was the starting point for our custom eCommerce platform "Shoppsy". Today, every eCommerce client we have has opted for "Shoppsy" over any other eCommerce platform on the market because of the value "Shoppsy" has. It's more affordable than some of the existing solutions, yet at par as far as quality is concerned.
WEB4PRO: You created a custom eCommerce platform of your own – "Shoppsy". Could you tell us a little more about it, and why it stands out? How was it born?
Miodrag: Of course. Shoppsy was a product of years of experience in implementing existing eCommerce solutions and filling in the gaps to get to a version our clients would be happy with. We focused on creating a well-rounded platform that includes all of the necessary features a business would need to succeed in selling online. This includes B2B commerce, not just B2C. The challenge was to create a platform that's easy to use, yet still powerful enough to support the growing needs of the market, and I believe we were successful in doing so. Shoppsy is everything an enterprise would need for a successful eCommerce business, in one place. I'll name some of the capabilities so that you can get a better idea of what Shoppsy offers: Android and iOS apps that support the web version, custom design, custom CMS, cart customization, responsive web design, promotional tools (Facebook Pixel, Google Analytics, Email marketing, and so on…), order tracking, product categories, real-time shipping, segmentation, pre-orders, inventory management, CRM, ERP and OMS integrations, API Support, inventory syncing and so much more. If it sounds like I'm trying to sell you on our platform it's because I am 🙂 We built a powerful platform and we are very proud of it.
WEB4PRO: That must be a great solution for eCommerce entrepreneurs who are looking for a qualitative eCommerce platform with all the needed tools in one place! Why did you decide to help eCommerce brands grow?
Miodrag: When we were starting out eCommerce was, and in my opinion still is, the future of business. We wanted to be a small part of the revolution by helping brands in Serbia understand the importance of an online store and online presence in general. I think the situation we are in today with the pandemic is the perfect example of the power of eCommerce. A lot of the brands that didn't have an online store did not survive the pandemic because they didn't have a way to sell their products, and many brands with a strong online presence thrived.
WEB4PRO: You've been together already for many years. What does your team put the focus on when working on your projects at Cubes?
Miodrag: We focus on understanding the task at hand as best as we can in order to create a solid plan and timeline, which we then pass to the client. Defining everything beforehand is half the work. Once you know what you have to do there are fewer changes along the way, and you are able to meet deadlines.
WEB4PRO: Yeah, planning everything beforehand is really important for product success. What helps your team give a client a better understanding of the product they finally got? IT products are complex enough, and it's a really valuable skill to provide a client with a clear understanding of the technologies, solutions, and the final result.
Miodrag: Usually, we show a new client the success our platform has had for our other clients. We provide them with data of increased sales and cut costs due to better inventory management since the platform has been implemented. The best thing to do is to explain everything in simple terms and results-driven data. We find that clients get confused when we start discussing the technology itself. So instead of using fancy tech terms, we just describe the features our platform has and how those features can help improve their business. We also show them a demo of our platform so that they can get an idea of how easy it is to use.
WEB4PRO: Your company achieved great success striving to be the leading IT company in South Europe. How do you gain customers' trust for the Cubes brand? What advice would you give for beginning IT companies?
Miodrag: I'd say just focus on your customer. Listen to their needs, and do the best job possible. There are no shortcuts to gaining customers' trust. You do it by delivering quality products. Of course, communication is also very important. Don't promise something you can't deliver. I find that when you are kind and honest the person on the other side is like that as well. So just work hard, be fair and your customers will recognize that. I'd also say that this is "the secret" to our success. Most of our clients found us through word of mouth. Once your clients are recommending you to other companies, you know you are doing a good job.
"Work hard, be fair, and your customers will recognize that. I'd also say this is "the secret" to our success".
– Miodrag Lapcevic at Cubes for WEB4PRO
Summary
Miodrag, thank you for sharing your experience and the Cubes company story. It's inspiring and shows how honest approach, attention and respect to customers and their needs, and desire to help your team grow help build powerful teams, powerful brands, and powerful products, such as Cubes and Shoppsy eCommerce. We are always happy to see and hear you at WEB4PRO and are grateful for this opportunity. We aim to inspire young eCommerce professionals and great eCommerce development companies to grow and add value to help more powerful and sustainable online brands appear on the market. That was the Cubes company, Miodrag Lapcevic, and WEB4PRO for the eCommerce Community.
Posted on: December 15, 2021
Article rating (17 Reviews)
Do you find this article useful? Please, let us know your opinion and rate the post!