Magento 2 vs BigCommerce: Who Is the Winner?
We know how difficult it can be for you to choose a platform to host your online store. We will consider two major competitors in this field – Magento 2 vs. BigCommerce. Why? The base costs of both are cheap: Magento community edition is free to install, and BigCommerce standard package is only $30/month. Let's move on and compare them to see who will be the winner.
Difference Between BigCommerce and Magento 2
Now we can move onto the differences between BigCommerce and Magento 2. This way, you can make an informed decision about which platform is best for you.
Features
Magento 2 is an open-source platform. This means that it is incredibly customizable because you can change themes, colors, and add features to it.
Magento 2 offers its customers' search engine optimization, instant purchase, coupon tracking, catalog browsing, and product browsing. Magento 2 customers get to experience your online store's social media integration, as well as messaging displays for out-of-stock products and even coupons! You also can integrate your store with Amazon, eBay to boost your sales!
BigCommerce offers 5GB of storage with its base package, and you can have unlimited products. You also have unlimited staff accounts, eBay and Amazon integration, Google Shopping, a branded store, product ratings, etc.
With BigCommerce pro plus package, you can make up to $150 000 online sales per year, and with the pro package, you can make more.
When it comes to features and functions, Magento is the best because you can tailor it entirely to the needs of your company and your customers.
Pricing
Magento 2 has two different packages. The first one is the Community edition, and it's free to install. That said, most people want to tailor their company to their needs, which is why you might want to buy some add-ons later on. The second option is Enterprise edition that cost 22,000 per year and has excellent features around B2B and now order management. It is flexible to any changes and additional functionality solutions.
BigCommerce, on the other hand, has three plans. The first is the standard package, which is $30 per month. The second is the additional package, sitting comfortably at $79.97 per month. The pro package is the most expensive and costs $249.99.
Community Support
Magento 2 offers its users technical support and help within its development community. Magento has many forums that you can ask questions on, and plenty of professionals will work to make sure that your problem is solved.
BigCommerce has the support that you can reach by email, phone, or instant chat.
Server Requirements
To run Magento 2, there are a few server requirements that you should keep in mind. For one thing, you'll need to have Apache 2.2, 2.4, and nginx 1.x. When you have Apache, you'll need to enable mod_rewrite, which is a feature that allows you to edit your URL.
BigCommerce handles your hosting on its own, which allows you to have more time to work on your online store. BigCommerce servers are certified and prevent server breaches.
Marketing Opportunities
Magento 2 is known for its marketing opportunities. For one thing, everyone can take advantage of the platform's SEO. This means that you can optimize all of your products by adding metadata so that they are favored in Google. One of the best things that you can do in this case is to create individual URLs. This will make it easier for customers to find your product sites and it will be easier for Google to recognize your page, as well as what your page is about. Magento 2 offers its users Google sitemap, which makes any of the online store more user-friendly.
BigCommerce holds its own in marketing opportunities because it also offers sitemaps, meta information, and you can customize your URLs.
Social Media
BigCommerce has built-in blogging opportunities. Blogs are some of the most useful features that you can add to your eCommerce store because they allow you to expand your reach. With a blog, you can discuss your brand, and you can even take advantage of SEO to improve your search results. You will be able to get more customers by creating "How-To" guides and Q&A's.
While Magento 2 does not have built-in blogging solutions, there are plenty of add-ons that you can install to create blogs. You can host them with your online store.
Email Marketing
Magento 2 takes the lead in email marketing. The company allows you to install add-ons that will connect you with newsletter services. Their add-ons will enable you to manage your subscribers, send welcome emails, more. If you have an existing mailing service, you can also connect this to one of your addons.
In comparison, BigCommerce offers necessary email marketing, with welcome emails and opt-in forms.
Magento 2 vs. BigCommerce: Usage Prospects
Magento 2 Clients
Magento 2 currently hosts around 0.1% of the top 100 000 sites around the world, 0.3% of the top million, and 0.2% of the entire internet. The number of eCommerce stores being hosted by Magento 2 appears to be increasing among the top 100 000 and top 1 million.
Not only this, but there are reportedly about 11 500 physical businesses that use Magento for the online store in the United States, which is followed by just over 1 thousand companies in the Netherlands and the United Kingdom.
BigCommerce Clients
BigCommerce, on the other hand, runs about 0.6% of the entire internet. 0.1% of the sites that use BigCommerce are among the top 100 000, and 0.5% are within the top one million. The number of the top one million websites that use BigCommerce varies depending on the year, but the platform experienced a significant drop in users at the beginning of 2018.
There are around 50 thousand U.S. stores with physical locations in the United States that use BigCommerce, followed by approximately 3700 in Australia and 2700 in the U.K.
Magento 2 or BigCommerce: What Will You Choose?
The platform you choose to run your online store depends entirely on your needs. Overall, though, you'll probably find that Magento 2 is the better fit for your store because it is extremely customizable. This is due to its being an open-source platform, and because you can install various add-ons that will make your store your own.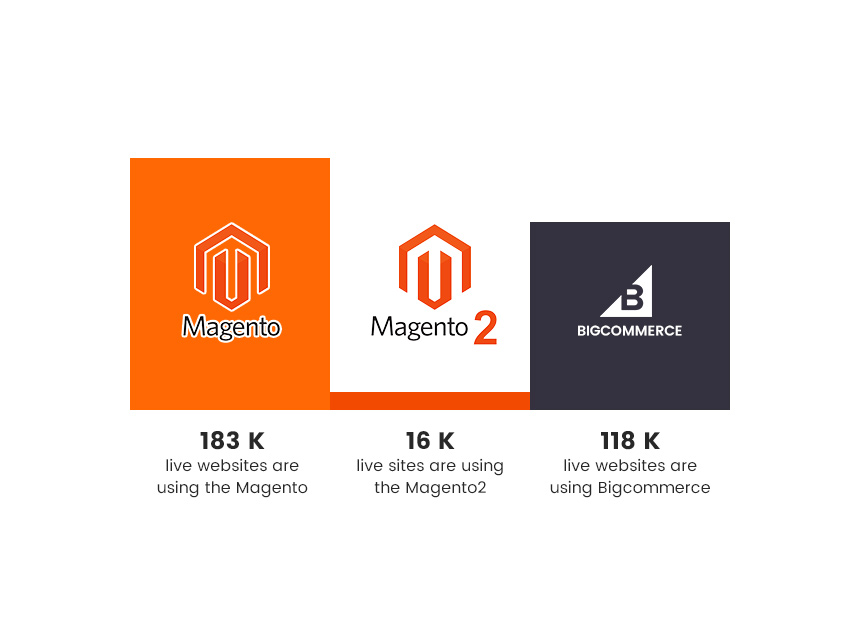 Summary
Magento 2 does not have a one-size-fits-all solution; instead, it recognizes that every company is different. Not only this, but its basic package is free, which will suit midsize businesses; meanwhile, the Enterprise Edition is affordable for companies that rake in more revenue. If you agree that Magento could work for your online store's success, please drop us a line, and we will guide you with
Magento 2 Migration
.
Article rating (2 Reviews)
Do you find this article useful? Please, let us know your opinion and rate the post!