NFT in eCommerce: It's Not as Difficult as You Think
Have no time to read?
I'll read
Cryptocurrencies and NFTs are attracting increasing interest from consumers and companies. Brands are starting to think about how they can be part of this trend and how they can take advantage of the NFTs. Even global fashion brands have begun to create their own digital NFT fashion collections to attract new customers.
NFT mobility has become a valuable business resource, and companies have started to have many more opportunities due to eCommerce platforms with NFTs. Nearly $41 billion worth of cryptocurrency was spent on NFT marketplaces in 2021. The most valuable NFT is worth over $91.8 million.
The idea of NFT is tricky to comprehend, but technology has limitless potential in today's world. The companies started to have much more beneficial opportunities due to the eCommerce industry with NFT.   
First, let's figure out what NFT is and how Non-Fungible Tokens (NFT) and eCommerce platforms can access the global market by using NFT.
What Is NFT Token?
NFT stands for "Non-Fungible Token". A non-Fungible token is a cryptographically recorded ownership of a unique object. In order to identify the original copy, a digital file can be stored as an NFT. It can be anything: a video, a song, an artwork, a photo of your cat, some memes or a tweet. 
NFT can be considered a modern collectable. You can buy and sell them online, often with cryptocurrencies, and the same software is generally used for encoding NFTs as is used for cryptocurrencies. 
NFTs are like any other collectable items, such as artworks, but you are not physically buying them; you are just getting the digital file and the proof that you are now the owner of the original.
Here we are facing one of the most significant contradictions: how can you pay money for something that can be, in principle, downloaded for free when many NFTs are just "ownership" of an online image?
We can feel both admiration and scepticism towards NFT… What on earth can determine the value of an asset that is really just a digital token?
What Is NFT in eCommerce?
Usually, NFTs are sold on trading floors. As for NFT in eCommerce, a digital storefront is created by artists in order to sell their art.
For example:
An experiment in which real sneakers were sold paired with virtual ones was undertaken by Nike and their partner artists, FEWOCiOUS & RTFKT. It was hugely successful: more than 600 pairs/NFTs were sold in 6 minutes, bringing them about $3.1 million.
The limited-edition NFT "Into the Metaverse," launched by Adidas, was even more profitable. The physical clothing and NFTs offered by the company sold out in a few hours, earning $22 million.  
Robert Mondavi's NFT is another good example of NFT in eCommerce. In order to promote their unique, authentic wine collection, a vineyard initiated this new digital asset.
Users of the Shopify eCommerce portal can offer NFTs directly on the site. For example, the Chicago Bulls created a collection of NBA championship rings in NFTs. This new form of merchandise was represented on Shopify eCommerce platform. They sold this collection of digital NFs in approximately 3 minutes.
One year ago, the world-famous brand Gucci announced a digital sneaker collection. The NFT environment created by Gucci allows their customers to buy and sell sneakers, as well as initiating the creation of their own digital NFT collections. NFT in eCommerce has become an inseparable part of this luxury fashion brand. 
How to Sell NFT?
If you have decided to get started with NFTs, your first step will be to find a way to introduce NFTs to the world. You can consider two options: selling them through your own website or using the NFT marketplace. Which one to choose depends upon the level of control you would like to have over your payment and branding.
NFT Marketplaces
You can choose from a great variety of NFT marketplaces and NFT websites, focusing on a specific niche.
What are the top NFT Marketplaces out there?
NFT Launchpad is mostly recommended for traders and creators
Binance NFT Marketplace is an excellent trading platform
OpenSea is a great place to start and is leading in NFT sells
Axie Marketplace is an excellent NFT gaming platform
Nifty Gateway is an easy to use platform for buying/selling and storing art and collectable items digitally
Rarible is a good choice for musicians, artists and photographers
The list of market places mentioned above is indicative of the variety of NFT platforms, which have different features to choose from in order to accommodate your needs.
Corporate Websites
When you use your own website for selling NFTs, it allows you to control your brand, data and analytics and payment process, which is quite advantageous. However, there are some disadvantages: the complexity of the procedure and strict regulations will undoubtedly increase your efforts and the costs, while sales of NFTs are not supported by all payment systems – most of them only accept cryptocurrencies as a payment method.
Sell NFT on Shopify
Shopify offers users the chance to sell their NFTs through their storefronts. When we use Shopify to deal with NFTs, there are many advantages as compared with other NFT-focused marketplaces.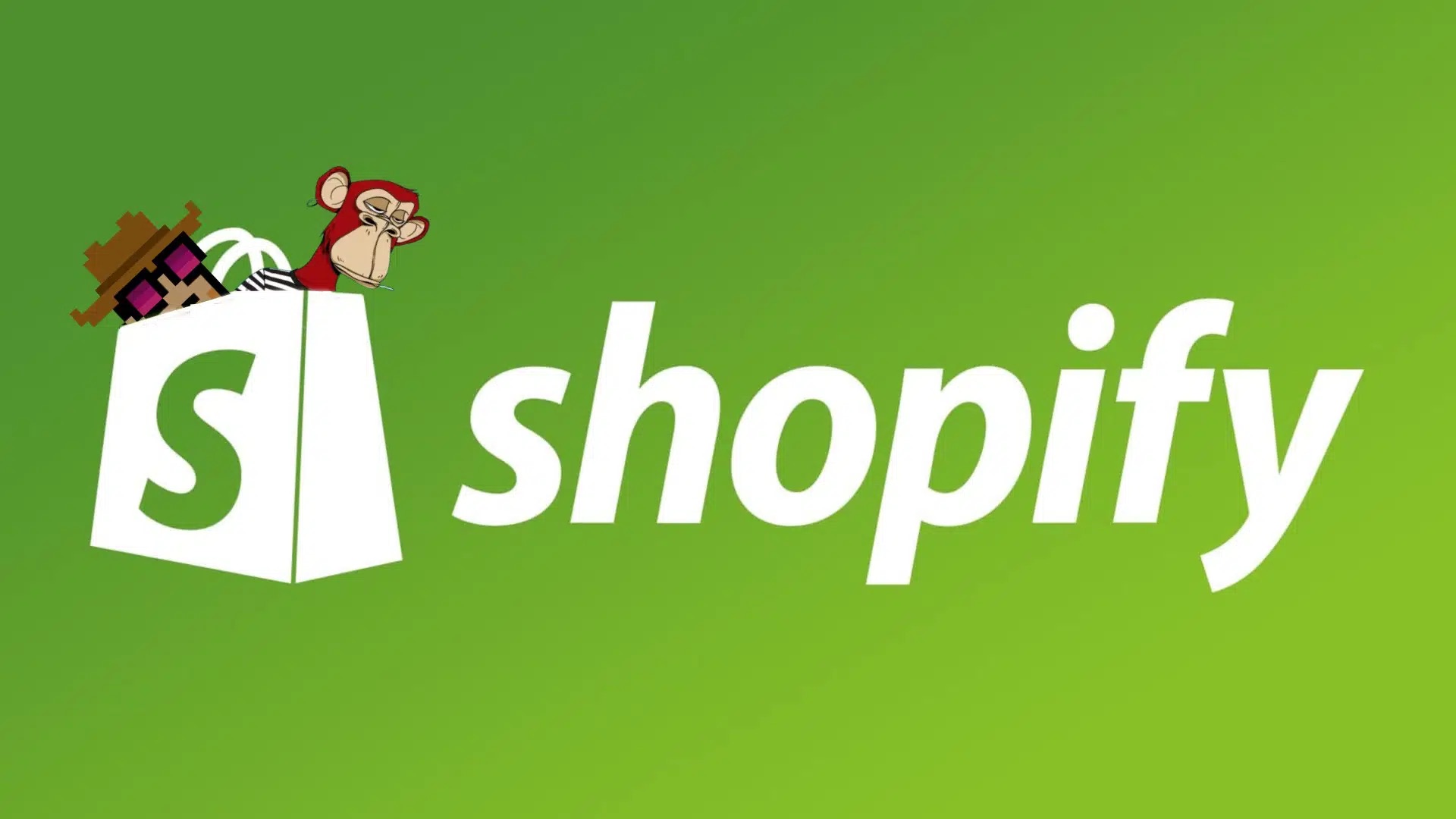 Shopify NFT marketplace provides help with:
  Finding the right payment option

  Creating a brand experience

  Embracing a wide range of clients

  Shopify platform integration with websites
To sell NFTs on Shopify, you must be a US store and have a Shopify Plus plan. This will enable you to join the Shopify NFT beta program. 
After getting approval for your application, you can get NFTs from your Shopify store by paying with credit cards and cryptocurrencies.
If your Shopify store is located in another country, you can still apply for the NFT program. But you will need to connect with your payment provider, in order to pay for orders in your store.
What Can You Sell as NFTs in eCommerce?
In eCommerce, NFT can represent both physical and digital objects. We would like to draw your attention to some of the NFT ideas that can be sold:
Fashion Design Industry
If you are a famous international brand such as LV, Victoria's Secret, Calvin Klein, Burberry, with a huge client pool, you have a new possibility: selling not only the physical product but also a digital version, as well in the form of NFT. In order to be profitable, you need confirmation that your clients will have an interest in the creation of digital collections for your brand.
Artworks
We all know that some online stores sell digital art prints. Like them, you can turn your artwork into a unique object, creating an NFT and selling it, for example, on Shopify. 
Photography
Your photos can be turned into NFTs and sold online. Some photographers do the same by selling their photos in digital form. 
Music
If you are a creator of musical compositions, you can convert them into NFT format and sell them online, if you wish. The only thing you have to be sure of is that they are unique and authentic.
Video
Videos can also be sold as NFTs. The same rules apply. Full rights to the video in question are required from you.
How Can an eCommerce Company Use NFT?
Give NFT as a Reward
For your eCommerce business to be prosperous and well developed, customer involvement is crucial. It is imperative to interact with your potential consumers by conducting surveys, beta tests, and discussing the prospects of your eCommerce business development so as to take into account their needs and wishes. To keep your customer happy, you can give them NFTs as a reward and thereby increase their engagement and strengthen your relationships.
NFT as a Loyalty Tool
NFTs can be used by merchants as part of a reward program for an eCommerce business, equivalent to a membership card. Thus, you can issue NFTs as verification of membership, voucher, or purchase. What's more, due to the unique nature of NFTs, the reward for each NFT holder can be customised, such as discount conditions, events participation, early access to new products, and many others.
Sell Digital Goods
You can earn extra income by selling digital goods or using them to complement your physical goods. In the meantime, this will help eCommerce stores provide a unique experience for shoppers.
Summary
eCommerce and cryptocurrencies are dynamically developing sectors. To remain competitive, eCommerce can leverage the potential of NFT to complement its services. NFT is an excellent opportunity for businesses and retailers to generate additional income through virtual sales and verify the authenticity of its tangible assets. eCommerce has never been more exciting. NFTs have fantastic potential, and businesses need to find creative ways to capitalise on them and take the user experience to the next level. If you are interested in
growing your business with Shopify
, please share your solution. We are happy to help you at any stage.
Posted on: April 18, 2022
Article rating (6 Reviews)
Do you find this article useful? Please, let us know your opinion and rate the post!