Top 15 Authentic British Fashion Brands & Their Online Stores on Magento
Have no time to read?
I'll read
Inspiration comes from great examples and success stories. On a recent hunt for inspiration, we crafted a list of what we consider to be some of the most authentic British brands. Each of these brands has their own personality and is creating a name for themselves in the fashion world. These companies are more than just trendsetters — they're also beloved brands that have gained the trust of their clients. Some of these companies are large, and others are smaller family-owned businesses. One thing they all have in common is how much they care about their clients and how much effort they have put into creating stellar online stores.
Let's take a "tour" of 15 authentic brands and our favorite features of their websites. This journey will teach you about some fashion trendsetters and provide inspiration for future projects of your own!
Navigation by brands
Vevie is a luxury women's clothing brand that was founded by Caroline Greenslade, one of Britain's top fashion designers. You may have spotted her designs in popular fashion magazines. Vivie offers stylish women's clothing for travel, spa visits, and workouts. Their functional clothing makes women feel confident and attractive, and even the visuals and stories on their website make you feel refreshed and energized.
Vevie attracts customers who care about their health, and the brand inspires readers to join their health-focused lifestyle movement with their inspiring BEVIVIE journal.
When you visit their online store, you'll find a lookbook with recent collections and a variety of their clothing. The Vevie team is consistent in their dedication to their philosophy, and they reinforce their ideas through interesting blog posts. We found this to be an excellent example of a website that looks fresh and clean, emphasizes brand vision, and makes readers feel good about themselves.
Solace London is a brand centered around friendship, creativity, inspiration, and a love of fashion. It was founded by best friends Laura Taylor and Ryan Holliday-Stevens, who collaborated on creative design and grew their synergy into a famous high-fashion brand. They have spent 12 years working together, crafting their stylish clothing using sculptural elements and focusing on comfy, modern, and authentic fashion for a variety of occasions. Their celebrity customers have included Emily Ratajkowski, Jennifer Lopez, Kendall Jenner, Bella Hadid, and Zendaya, and they have been featured in Harper's Bazaar.
The founders describe the style of their clothing as modern futurism balanced with timeless minimalism. Their style is for an elegant and confident woman who knows how to look great in chic pieces.
Solace London's vision is echoed quite clearly in the design of their website: their online shop is sleek and concise; there are no distractions from the products they're selling; there are no elements that are tough on the eyes. Their Lookbook, with its beautiful and sharp pictures, highlights their collections and emphasizes the overall quality of their products.
As Ryan noted in an interview with Fashionista, the word "solace" means "safe place." Indeed, the Solace London website is a site that makes customers feel safe and included.
The VogaCloset store offers accessible and stylish pieces for women, men, and even children. The store provides excellent looks for women of any size and figure and makes the latest trends very accessible.
The brand's philosophy communicates the same idea: fashion exists to make people feel good, and it should be available to all. They prove their point by having unique — and useful — categories on their website: Shop by Figure and Plus Sizes. These categories help target audiences find clothing more easily, which saves them time.
Customers enjoy free delivery, order tracking, special offers, and more. In addition, VogaCloset uses influencers to promote their clothing. This helps the brand increase its presence on social media, and it lets customers share their experiences wearing clothes. This also promotes new trends.
This store's motto, "Making fashion accessible," inspired us, and they definitely rise to the occasion.
MeSheMe is a fair and ethical company that sells everyday clothing for millenials. Their workers get paid fair wages and enjoy good working conditions. MeSheMe also donates money to Macmillan Cancer Support, a cancer-focused charity.
Their online store is accessible and user-friendly. On their listing page, customers can view items by color, price, and size, and the search and filter features help users hone in on something exact. Their online store places special emphasis on two unique categories: Sales, where customers can buy items at special low prices, and MeSheMe Exclusive, which highlights special designs.
MeSheMe cares about every customer. There are student discounts and special discounts for using their hashtag on Instagram. Any customer can be featured on their official Instagram page, which creates an emotional connection with the brand and helps build customer trust and loyalty.
MeSheMe creates good vibes, does good deeds, and designs clothing for forward-thinking and fashionable women.
Alice Temperley, founder of Temperley London, creates modern, bohemian, and feminine articles of clothing. The core focus of her brand is on ready-to-wear collections of cocktail, bridal, and evening dresses and suits. The company defines itself as a responsible luxury business, using eco-friendly fabrics and donating sales from excess clothing to charity. Famous faces including Michelle Obama, Olga Kurylenko, Kate Hudson, Amber Heard, and Florence Welch have chosen Temperley London to help create their stylish looks.
The brand's personality appears in the store's design: it's bright and stylish, and it highlights popular dress styles and collections. One of the brand's specialties is beautiful dresses for one of life's most exciting occasions: weddings. On the Bridal category page, brides-to-be can book fittings for the dress of their dreams.
Beyond their clothing options, Temperley London has a blog where they share updates on their charitable activities and brand achievements. This keeps customers in the know.
Their website has many useful features, but we wanted to be sure to mention their detailed product and category pages. Product pages have pop-up windows with size and care guides, and there are video previews of products to help gauge how they look on real people. The comprehensive Lookbook lets customers get a preview of the latest collections.
The store's look and feel are in line with the company's philosophy, and the store makes the brand and their high-fashion dresses seem attractive to customers.
Luxury pyjamas with superb quality — that's what PJ Pan is all about. This brand sells men's, women's, and children's pyjamas and clothes for around the house. The founder decided to create this brand after a failed shopping trip in 2008 when they couldn't find good pyjamas. The next thing they knew they were searching for fabrics, and a few months later they had formed their own company. PJ Pan brings the finest quality homewear to their customers. The pyjamas are hand-tailored in Wales, and the fabric is sourced both locally and abroad.
Let's take a look at the site's design and content. One useful feature is the Matching page, which shows designs that are available for both kids and adults. This is a great idea for families.
Another great opportunity for customers is their Loyalty program. For each British pound spent, customers get 1 PJ Point, which can be redeemed to make a future purchase.
Blog posts and other site pages highlight background info and news on the brand, their manufacturing process, and their fabrics. These resources help customers explore the brand's history and develop loyalty.
Among the other features they offer are quick product view, live chat, a calculator for delivery estimates, and gift wrapping. These features help the brand interact with customers and meet customers' highest expectations.
In general, the store is a pleasant website that makes you feel, well, cozy.
Oki-ni specializes in premium menswear from famous designers around the globe. Their customers are style-conscious men who seek exceptional clothing designs. They have been selling innovative and functional clothing online since 2001, longer than most other eCommerce brands.
We can feel their functional approach even in the design of the website: it's unique and fashion-forward. The main page has a simple design and highlights the main categories and deals available, which makes for an efficient shopping experience.
The product page contains everything from size and delivery info, high-quality images, and customer support. There is also a Loyalty program in place, which lets customers earn rewards points to spend on future purchases. As we can see, Oki-ni cares about its customers and strives to create a convenient shopping experience for them.
In our opinion, the coolest part about their website is the Blog. The blog shares interviews with brand representatives, so customers can learn more about the history, philosophy, and product creation behind the brands they are interested in. This inspires customers and helps them feel connected to the brands they care about.
Oki-ni offers visitors high-quality men's clothing, as well as a clear and functional user interface for an improved online shopping experience.
Heidi Klein is a luxury swimwear, bikini, and resort wear brand. Kate Moss, Olivia Palermo, Sienna Miller, and Jennifer Aniston are among their clients. The brand, which started in 2002 as the UK's first pop-up holiday shop, has become a strong force on the UK market, as well as globally. Now they are an independent company that offers a variety of resort wear for the well-traveled client. Heidi Klein is dedicated to creating comfortable and elegant pieces that will match any style and body shape. The brand uses high-quality components to create their products, they test their fabrics thoroughly, and they ensure that their styles are versatile.
Their website is relaxing and makes you feel like you're getting ready for a great vacation. The design is clear, bright, and inviting, and it evokes thoughts of the beach and long vacations. We explored the entire store, and here are some of our favorite parts about it.
First, the store has an advanced search feature, which gives customers a tailored view of the products available, suggests similar options, and simplifies search in general.
Next is the style guide page. This helps customers by specifying certain types of products and providing ideas for styling. Personal Swimwear Fit service allows shoppers to get expert advice on the perfect swimsuit and accessories.
Their loyalty program lets shoppers earn rewards to use toward future purchases. Growing customer loyalty and incentivizing active customers to make purchases are both good steps the brand takes.
All in all, Heidi Klein's website is responsive, looks good, and has all the features shoppers need to find the perfect vacation piece. Moreover, their products are easy to fall in love with.
This stylish and glamorous brand positions themselves as a female-first company. AQ/AQ, which was created by Julie Lingard in 2007, designs clothing for confident and elegant women and makes them feel feminine and good about their outfits. Their mission is to make women feel unstoppable and to give them that extra spring in their step.
Their website gives a great overall impression. It's cleanly designed, stylish, and simple. This helps users explore the brand's history and philosophy, if they choose to do so, and to easily find the products they are looking for. There are several helpful features to guide shoppers, such as quick product view, detailed filters for the category page, and a live chat.
Their blog, Editorial, inspires readers with stories of successful women and highlights from the brand's collections. You can even add products you like to your shopping cart right from blog posts!
This brand is truly great and authentic.
Bella Freud is the founder and mastermind behind this brand. With styles mimicking those from the '70s, Bella Freud's fashion differs from what other brands have in mind. They also differ by offering lines for both adults and children, so people of all ages can find clothing, accessories, and gifts.
The bright, engaging, and even audacious design of the website offers something to attract the attention of all sorts of customers.
We found the site as convenient as it is authentic to the brand's ideals. It's structured around product categories, with effective product pages that share images, sizes, and product details. There are no distractions on product pages that might keep shoppers from making their purchases.
The Lookbook page lets shoppers explore recent collections and provides an easy means for purchasing products. Purchasing from the Lookbook pages is similar to using a quick add feature, and it saves customers time when shopping.
Lastly, we want to add that this brand left a strong impression on us. Their store gives off vibes of revolutionary art and fashion, which is in line with the brand's philosophy and ideals.
Alexa Chung, creator of the brand ALEXACHUNG, is a British writer, model, and fashion designer. She loves styling clothes and has been featured many times in magazines for her perfect looks and dedication to the fashion world. Her vision is to create clothes that people will like and want to wear. ALEXACHUNG starts with a foundation of experience in fashion, tacks on a touch of posh Parisian style, adds some British flair, and thus their style is born. Alexa launched her brand in 2016 and since then has served 15 countries around the world.
The design of the website corresponds to the philosophy of the brand. It's a fun and girly site, with details to entertain customers while they shop. The site uses icons instead of category names in the footer, and the overall design sets the brand apart from competitors. We can see how each product looks on a model, which gives shoppers a sense of seeing the item in real life before purchasing it.
The New In category helps customers learn about the latest arrivals.
Details like these simplify the shopping experience. The brand's philosophy and style shine through with the help of lookbooks and social media pages, and customers are free to learn plenty of interesting things about Alexa Chung's products.
This fashion and lifestyle brand offers customers feel-good fashion. JOY crafts vintage-style womenswear and casual menswear, with something to please all customers. In addition to clothing, customers can find homeware and accessories on JOY's site — all part of helping customers create beautiful interiors.
If you explore their shop, you can find a variety of features to assist customers, such as a loyalty program, effective product filters, and detailed product pages. These features simplify the shopping experience, and they help grow brand loyalty.
We want to point out one feature that does a particularly good job at assisting customers and growing loyalty: the Click & Collect feature. JOY partners with HubBox to allow online customers to pick up packages from nearby shops, such as pharmacies or post offices. Customers can access this program via a special application, which is easy to fill out on mobile devices. This is a great example of customer service.
Overall, the JOY website is designed well, with great usability. There are no extraneous pages or details. The store reflects the brand's main message: providing feel-good fashion and imparting JOY on customers.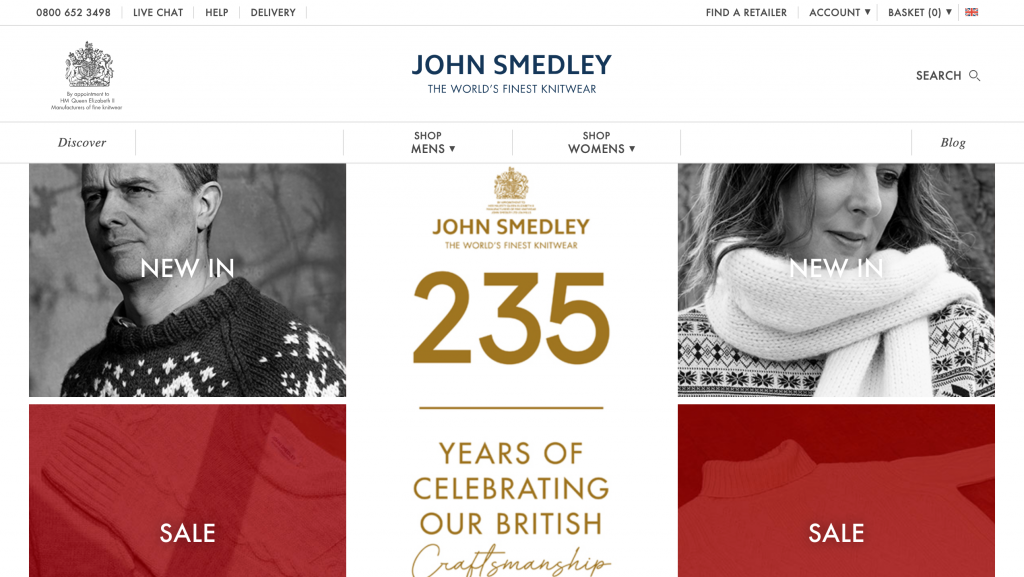 John Smedley has been around since 1784. It is the oldest manufacturing factory in the world, crafting beautiful, high-quality garments. Their classic clothing and retro collections remain popular among customers as decades and centuries pass.
The brand has collaborated with many famous companies, including Vivienne Westwood, Paul Smith, Yves St Laurent, and Prada. Their dedication to British heritage and sustainability is truly remarkable. They have restored iconic British cottages, participated in a sustainability program for climate-change education, and developed methods to integrate sustainability into their company strategy. These efforts have earned them the respect and attention of many customers, like-minded non-profits, and other brands.
Throughout their long journey as a company, the brand has always defined themselves as a family business. All of their employees work closely together as a sort of community, which guarantees a dedication to the quality of their work and the clothing they deliver to the world.
In 2013, John Smedley received the Royal Warrant of Appointment from Her Majesty the Queen as a "Manufacturer of Fine Knitwear." The brand has proven themselves to be a responsible company that is attentive to details and quality — and they provide truly British knitwear.
The store's design is precise and classic, and in this way, it conveys the main ideas of the brand's identity and positioning. Customers can learn everything about the brand and their background on the Discovery page, which highlights the brand's history, from creation to the current day. The Discovery page also lets shoppers learn about collaborations and interviews with famous designers, lookbooks, and the brand's detailed manufacturing process. By reading this page, customer trust in the John Smedley brand can grow, and readers are invited to travel the length of its impressive and ongoing history.
The shopping experience at the store is simple: customers can buy products from the listing page and find trending products and categories by fit and style on the dropdown menu. Each category has description with a blurb about its history and inspiration.
John Smedley remains a classic in terms of manufacturing processes, clothes, and business style. Their consistency and the years they have spent improving their strategy have made them a successful and timeless company.
Aquascutum is synonymous with elegance. In operation since 1851, the company creates classic trench coats, polo shirts, formal shirts, and other business-style clothing. Aquascutum's story began with the creation of waterproof wool and progressed with the design of their iconic coat, which was promoted by King Edward VII. Opportunities to dress celebrities, politicians, and members of the royal family helped the brand attract more and more customers. Their latest invention in garment technology was named the greatest technical advance in rainwear.
The Aquascutum website can be described as colorful, elegant, and truly British. They offer several features and useful pages: we want to highlight their free shipping, categories, and simple and functional filters as our favorites for how much they simplify the shopping experience.
The website offers detailed product descriptions, a full background story on their brand, and customer-support information.
We consider Aquascutum to be a great brand with a user-friendly store, a long history, and top-notch clothing.
The clothing label CALM was founded in 2010 by Crew à la Mode. This brand specializes in premium yachting apparel, from activewear to everyday pieces. Customers can create capsule wardrobes, mixing and matching different pieces to wear as part of everyday outfits or for nautical adventures. Their products are best described as high-performing, and they certainly deliver on that count, seeing as they have a Performance page on their website. As a sportswear brand, Calm created their luxury garments to be comfortable, durable, and long-lasting.
They have a separate website with more information about their team, their work, what inspires them, and the details of their manufacturing. Crew à la Mode offers complete crew uniforms, as well as collaborations, customizations, stewardess services, budget planning, and more.
Their primary online store has a clean and minimalist design that mirrors the brand's philosophy. They focus on products and style, keeping visitors from getting overwhelmed by extraneous website components. In addition to their products, they focus on their values, letting customers know about their manufacturing processes, their dedication to sustainability, and the quality of their clothing.
We enjoyed browsing their online store. Every section was fun to explore, with beautiful images and useful information about products and the company's background.
Our tour of authentic British brands stops here, now that we're full of inspiration. We have seen some great ideas, and hopefully, we were able to convey why we admire these successful and creative fashion brands. They not only help clients feel good but make our lives better and can improve our moods. They are making an effort to change the world, improve people's attitudes towards difficult questions, and help people in need. They strive to be sustainable brands.
Thanks for joining us! We hope you enjoyed this tour as much as we did.
Summary
We've highlighted what we consider to be some of the most authentic UK fashion brands. We hope that you've found this list useful and inspirational for your business goals. Consider your own brand strategy as you read this overview, and it can help open you up to new ideas for establishing a successful eCommerce store.
Posted on: December 24, 2019
Article rating (9 Reviews)
Do you find this article useful? Please, let us know your opinion and rate the post!