WEB4PRO Became Envato Elite Author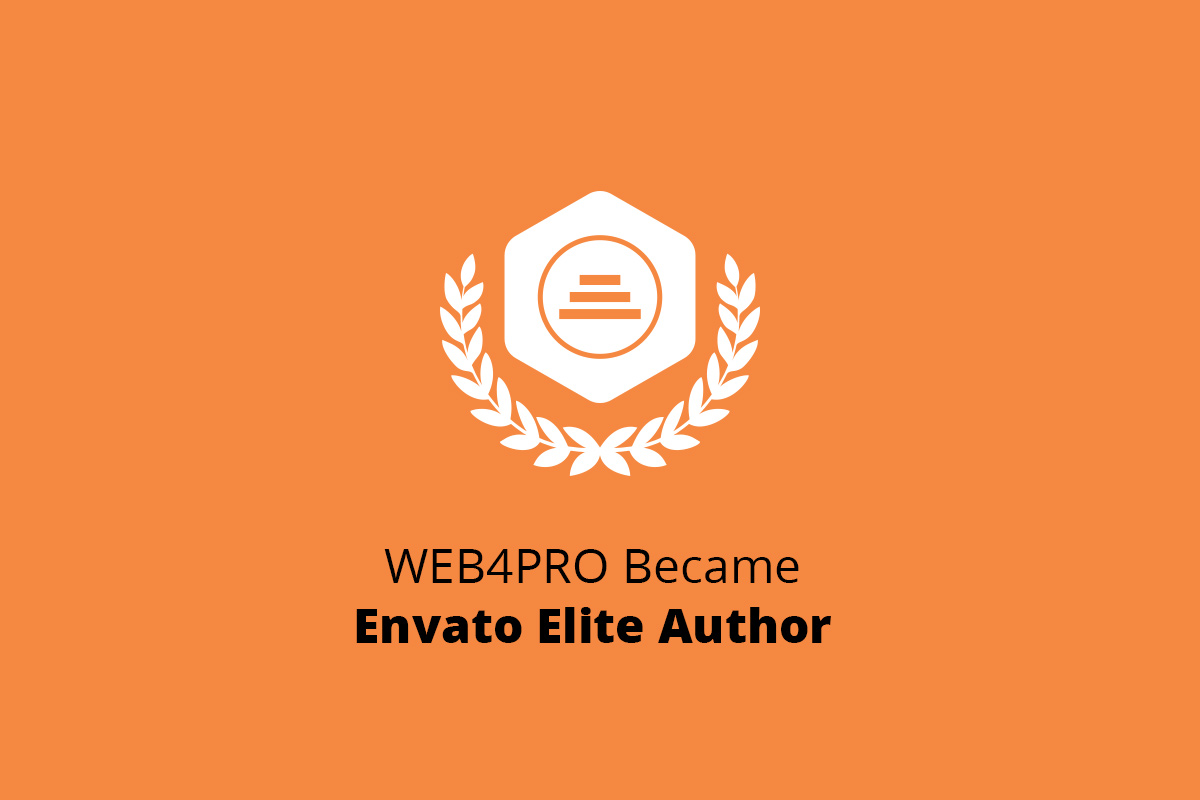 We want to share our new exciting achievement with you – we've got an Elite Author Status on Envato. We couldn't do it without you, our clients, who evaluate our work by using our email templates for business.
What Elite Author Program Means
In short, this is just the beginning of a new journey in Elite Author Program. This program highlights your sales achievements along with some other rewards and lets you use more of Envato community benefits.
Elite Author badge is showing that a company provides top quality products and has a trust of its clients. Now, we feel more dedicated and inspired to create new and improve existing products for our clients.
WEB4PRO Path on Envato
Our team is creating email templates since 2012. Handy and stylish designs are giving companies the ability to tell about their brand, deals and attract customers to their store and blog. We decided that client-oriented emails are the topmost in email marketing. With this in mind, we help our clients and other businesses to give a clear message, spending on email creation less time and put more efforts to their sales strategies.
Presenta Email Template
Our first marketing email pack Presenta was great to showcase the product from the presentation and pre-order to its selling. It was the first email template that was supported by our Emailbuilder. With it, you can edit each module (text, links, buttons, colors) and change their queue as you need.
From that time, we are grateful to all our clients that use our email templates – you inspire us to move on and create new, even better products and increase opportunities.
Magma Email Template
The most popular email template of all the time is Magma. It is a fully responsive email template with 35 modules that you can combine and edit from our Emailbuilder. It was featured by Themeforest among the best Mailchimp templates and we were very happy to deliver this module-rich template for businesses.
After all, we want to highlight some of our popular email and theme-based templates for holiday deals.
Store-e and Skipper Email Templates
Among others, similar email templates packs are Store-e and Skipper. They are made for eCommerce businesses and business pitches to help you conquer new heights.
Special Email Templates for Holidays
As for the special holiday deals, we have Back2Black, BlackFriday, that help you to show all the products and discounts. Also, we have a real-time clock counter that you can set to notify your clients about the limited time of the sale. This will increase the overall demand for products/services.
Santa, XMas and other Christmas email templates help to make your email look festive and create the right message to customers showing all the best deals at your store. Theme-based emails also increase the overall conversion, as customers always look at some Christmas products as well as presents at a great price.
In total, we sold more than 3,800 items on Envato marketplace and gloriously happy to continue creating more innovative, client-oriented and creative email templates.
Summary
Thank you our dear clients for choosing WEB4PRO email templates! We are looking forward to bringing even more great products and a variety of new email templates for different business needs.
Posted on: February 5, 2019
Article rating (11 Reviews)
Do you find this article useful? Please, let us know your opinion and rate the post!