Christmas Marketing Ideas: How to Prepare Your Site This Holiday?
Christmas is the biggest shopping season worldwide. For over a century, companies have been boosting sales by stepping into the festive spirit and offering deals that excite and entice their customers. The holiday is tailor-made for this purpose. We give Christmas gifts to show love to those we care about. This means more purchases and a perfect opportunity to reach interested customers.
On average, Christmas spending is more than all other holidays put together, and it can constitute nearly 20% of annual profits. According to Statista, last year alone, Christmas spending amounted to almost $700 billion. This makes Christmas marketing crucial for a successful year. In this post, we'll explore Christmas Marketing Ideas and protips for preparing your eCommerce website for the season.
The Essential Features for eCommerce Store This Christmas
This part is the most important for merchants because it is related directly to their store performance. When you get prepared for the holiday sales, you may find your store run slowly while lots of customers browsing and buying products at your store. Below is the list of what can be done to avoid such mistakes:
Check your store performance and speed. You need to check website speed via Pingdom to make sure that it is running fast and pages' loading speed is less than 3 seconds; so that customers can interact with your store freely. Also, check whether you have caching configured at the server's side and on Magento® (or other CMS) side.
Test the checkout page and shopping cart for speed and performance. You don't want your website visitors to abandon the cart. Check all the checkout process and the speed of it. It should be fast, and the fields should be understandable for a user to fill them out.
Create a separate landing page with a counter-timer and Christmas theme. This additional webpage will help you to attract clients during the holiday season and let them learn more about your company and deals.
Place pop-ups, use promo codes and set up discounts from the admin panel at your store. You can use the full promotion functionality for your Christmas sales campaign and gain both potential and current customers' attention.
Now let's move on to the actual Christmas marketing campaign ideas for this year.
Marketing Campaign Ideas
When setting up any marketing campaign, start by setting goals. The basic goal for any business is to increase profits. To do this, you need to know who to reach and what they'll want. Then break it down and get more precise. Set clear goals that have a time frame and can be measured. Keep realistic, and focus efforts to support the overall goal within this time frame. Rather saying you want more sales in general, shoot for higher profits over December and November compared to last year.
Next, look into execution. Here's where the marketing campaign comes into play. You might increase sales by using an influencer or becoming more active on social media. Consider company holiday newsletter ideas to reach more customers and share your great deals and discounts. Plus, since this season has high competition, you'll want to do something surprising and different.
You can also run mini-campaigns for loads of smaller holidays. Small Business Saturday and Free Shipping Day are also great for deals and discounts. If you sell globally, consider holidays in other selling regions. Niche holidays mean niche customers and increased reach. Plus, by acknowledging other holidays, you keep from alienating those who don't celebrate Christmas.
Finally, make your campaign unique by adding value in addition to the discounts or deals. You could extend warranties, offer free returns and postage, and provide complimentary stocking fillers or coupons that customers can use year-round. Off the sales for a couple of weeks after Christmas to clear old inventory, make space for the new product range, and reach even more customers.
Pay Attention to Christmas and Holiday Keywords
Anyone with an eCommerce site understands the importance of keywords. Plus, if you've been at this for a while, the top performing terms will be pretty clear. You can boost traffic by adding seasonal terms to the focus keywords. Anything that has Christmas in it is going to peak for a couple of months, so optimize your site for these terms.
Look into Google's Keyword Planner. It will show how different searches relate to each product and service. It also offers other related terms. This lets you optimize the website around even more buyer intent keywords. Use these terms for advertisement too, orienting Adwords and Pay-Per-Click campaigns around them. Also, consider what problems the product solves, framing ads and communication around how the product improves the life of the buyer.
Match Promotions with Your Content & Social Strategy
When brainstorming marketing promotion ideas, fit to the company. Your brand and business are unique. You have put work into developing a USP and reaching a specific demographic. Tailor the promotions to offer what your demographic wants.
Regarding content, consider what searches your target audience will make as Christmas rolls in and create blog posts around these topics. Christmas is about sharing, so these blogs are an opportunity to share tips and details with your clients. These blogs can be featured on social media as well as the site. Remember to keep them natural and fit them with the company theme.
Play with some Christmas meanings and tradition and create an attractive advertisement as, for example, UPS did. Their hashtag – #WishesDelivered, gained popularity on Twitter, as well as their short, but meaningful promo that pays attention to their great Christmas delivery services.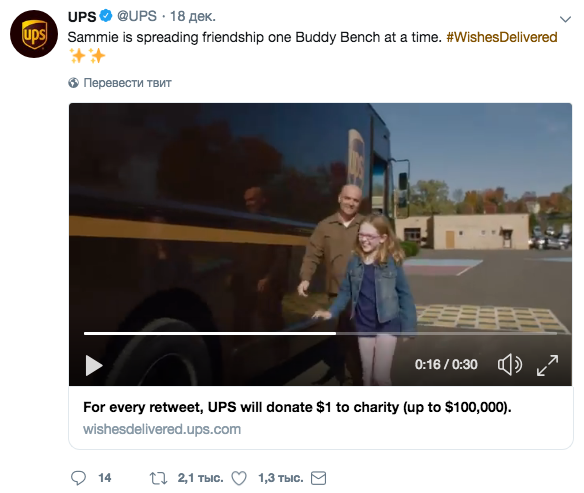 Update Your Website to Cater to the Holiday Mood
An effective Christmas marketing campaign also means tweaking the site to fit the mood and theme of the season. Use Christmas imagery on the landing page and make the promotions visible and visually appealing. Put your discounts and deals right up front and easy to read, showing visitors how they can save money with great holiday deals. Use the same imagery on social media channels.
You can also feature gift guides and bundled packages on your landing page. Gift guides are simple to create and perform.
They both generate interest and provide suggestions to spark new ideas. Include them on social media sites as well and you'll boost conversions dramatically.
Run a Holiday-Focused Email Campaign
Email campaigns are awesome for reaching consumers, especially on the holidays. For holiday eCommerce email ideas, consider using Christmas themes emails to expand brand recognition, showcase unique products, and offer holiday deals. Add links that your customers can use to reach the holiday gift guides, and you make conversions even easier.
Personalize the message personalized to speak directly to your customers. A nice touch is to put your own signature on the email. A Christmas banner is another great addition. The personal touch lets customers know they're valued and boosts engagement.
Here are some platforms to find holiday email templates:
ThemeForest offers more than 44,000 WordPress themes and Website templates. They are inexpensive, beginning from as low as $2. Plus, they are fit for every type of service or product and every holiday season. It's a massive library of top-quality themes. ThemeForest is connected with the Envato Market, a community of designers offering thousands of digital assets for all design needs.
WEB4PRO offers many great Christmas email templates to refine your email marketing campaign. Check here all the templates and find the right one for you. Below are the examples of our Christmas email templates:
TemplateMonster is another place to find themes for WordPress, Shopify, Magento, and many other eCommerce platforms. It is a user-friendly site with more than 25,000 themes. More than 2 million sites use TemplateMonster themes. They offer a 100% satisfaction policy and 14-day money back guarantee. Plus they offer 24/7 support and a personal consultant to help you find the template that fits your needs perfectly. The themes are a bit pricier than ThemeForest, but they are high-quality digital solutions.
Showcase Your Holiday Offerings on Facebook
Social media is tailor-made for reaching customers and generating interest. Facebook is ideal to get consumers engaging with content. Put great blogs on the business Facebook site and remember to use creative holiday taglines. That way, users are kept in the loop on the best deals. Use photos and seasonal imagery to fit the festive theme, but try not to overdo it and keep the theme compatible with the brand. Remember to focus on unique, emotionally engaging messages.
Create Funny Holiday Video
Videos are a great way to optimize your website and increase rankings. A holiday video reaches more users and helps them to find deals they'll want. To keep it catchy and unique, consider a touch of comedy in the video. This keeps things light and boosts customer interest. If you do it right, customers will remember it, visiting your site again later and spend longer browsing.
Look, how Air New Zealand made it creating the creative Chrismas advertising with Santa and kids.
Christmas Sales Ideas
The options for are great Christmas sales are endless. Consider giving percentage discounts, bundled products, or flash sales. VIP discounts for valued consumers, coupon packages that come with seasonal purchases, the options go on. Emphasize creativity and match the deals to your demographic and niche. Here are some ways to boost holiday conversions:
Use Scarcity as a Strategy
Scarcity and urgency are ideal for getting a buyer to bridge the gap between interest and conversion. Use limited time offerings like a two-day or hour-long sale. Advertise the deal ahead of time, and make sure customers know that it'll end when stock runs out. "Limited time offer! While supplies last!" This may not be a novel approach, but it works as well now as it did when it was first conceived.
Remember that bestsellers will move fast during the season, and stock up on the hottest products before the deal begins. Include an inventory counter on your site, so buyers can watch the inventory dwindle. This encourages customers to buy before the stock runs out. Plus, you can reinforce this by giving a clear cutoff date for the last purchase.
Offer a Gift with Purchase
Free is a word that garners more attention from the customer than any other. Give something away, and you give customers a bargain, adding value, even if it's only perceived value. When you bundle items, you can offer less popular products for free along with more popular ones. Even if you only add a bit of value, that's massive in sales terms. You could also offer free coupons that can be redeemed all year long. This takes advantage of the buying frenzy to boost traffic throughout the year.
A great tactic for eCommerce sales is to offer free shipping. If a customer has to pay shipping costs, they are sure to stop and reconsider the purchase. Especially when so many of your competitors are making sure that customers can get their products shipped to them free of cost. This is especially important within the last few days before Christmas. If you offer free worldwide or overnight shipping so the gift arrives before the holiday, customers often overlook a bit of a price hike in the product itself.
Summary
Christmas is the #1 most important time of year for shoppers and sellers. As a seller, making the most of the holiday means adjusting your site and setting up a marketing campaign to expand your reach and customers and make your company stand out. If you have any questions about Christmas marketing ideas or would like help adjusting your site for the holiday, feel free to
contact us
.
Article rating (6 Reviews)
Do you find this article useful? Please, let us know your opinion and rate the post!