Top 10 Magento 2 Popup Extensions
Popup ads are online forms of advertisements meant to capture email addresses of the customers to increase traffic in the website. Popups are new browser windows which attract prospects' attention to the website. They suddenly appear on the screen of the device until you press a particular function key to select one of the commands. The popup ads then disappear.
Magento 2 popup extensions have outstanding features making them versatile for the eCommerce website.  Firstly, you can set a flexible display rule based on your customer store view to have a popup position on the webpage.
Secondly, It's easy to get and add to your eCommerce shop. With it, you market your products effortlessly without IT knowledge.
Thirdly, It displays several popups in one campaign to build trust in your eCommerce business.
And lastly, you can generate banner slider HTML code which reduces the risk of duplication when integrating hence saving both time and funds. Let's move on to the list of best Magento pop-up extensions on the market.
5 Best Magento 2 Popup Extensions
Online stores require Magento 2 popup extensions to propel marketing and business goals. Here are the best 10 Magento Popup extensions and newsletters.
Popup for Magento 2 by Magesolution is a trusted solution for business merchants who want their customers to know the latest stuff in their online store. It has a demo version to look at how it works on the frontend and how to manage it from the backend.
Magesolution designs themes for customers. If you need a stylish modern online store, this extension and theme development company is your ever present help.
A pop-up by Magesolution is a vast extension to build them with HTML content. It is an attractive window used to collect business information to promote ads and products of the business. It's quite easy to man the manifestation of your popup when you define widgets and show them for a specific customer group.
Pop-up for Magento 2 by BSScommerce helps business people invent multipurpose pop-ups. It's upon one to decide where to establish the pop-up and set demo animation for clients to see. The company has served many customers all over the world. They offer innovative Magento 2 extensions with free installations.
The installation keeps your business miles away from the other competitors. It enriches your store to save management effort.
You can efficiently manage and configure the extension. To do this, you need to go to the store and click configure and then BSScommerce > Pop-up, and you will see the general configuration. Select yes to activate the setting. It has Manager Pop-up which displays all created pop-ups and their contents such as Views, Enable, Customer Group, etc. This tool helps you control everything that goes in and out of your popup.
Mageplaza is the best popup which improves customer retention. It draws attention to more subscribers. Most of the online shopping carts are relinquished at the checkout page which leads to sales decrease. However, with Magento 2 extensions you cut down the percentage of cart renouncement at the checkout page.
Mageplaza provides useful marketing tools which help the store to garner more leads. When your clients see a newspaper subscription invitation they offer their email hence providing a permanent link with your clients. This module has a report emails which shows the number of new subscribers on a weekly basis.
Popup Pro for Magento 2 triggers appearance of popup window based on different types of customer behavior. It has a flexible popup design that admin can alter to match any task. The popup may be used for promotions, cookie policy, and newsletter subscription among others.
It has more integration options which use Custom Static Blocks which many clients highly recommend. With a single promo, you can use it on any site which is valuable for both store owners and their clients.
These Popup Pro advantages outweigh the alleged disadvantages. For instance, it helps in sales promotions, product upsells, content participation and email captures. These simple processes help your store retain old customers besides having new clients.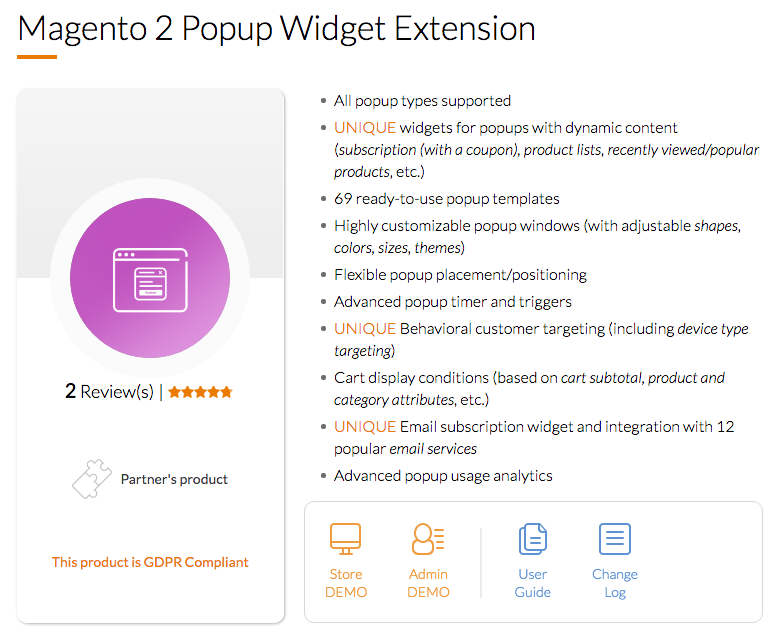 Magento 2 popup widget extension is widely used because of its stability, performance, and Mageworx ever present solution to emerging problems. If you want to deliver the correct information to the right customers, create pop-ups for all sizes and shapes.
With this extension, you can easily add a duplicate pop-up button. Mageworx provides products which have a guarantee and a lifetime functionality update. With it, you can combine standard widgets with advanced extensions to have attractive popups. You do not need HTML proofs or design to apply templates. The current models allow you to design pompous promotional messages for any purpose to increase the efficiency of your popup messages aim at the needs and interests of the new clients.
Also, you can group your shoppers based on location, type of device used, customer category among other factors. These subdivisions help you to achieve your target quickly.
5 Best Magento Newsletter Popup Extensions
Magento newsletter popup display popup containing subscriptions. The customers receive a free discount coupon code. The discount offered makes the shop owner win the customers' trust which translates to higher sales conversion rates.
Here are the five best Magento newsletter Popup extensions you can choose any of the three display methods: specified time delay, manually or when the user logs out. It's upon the store owner to decide when to restrict popup messages to be displayed on specific devices.
Plumrocket solution through Magento 2 newsletter helps online store owners to increase their sales by giving good deals.
Magento 2 newsletter has critical features which help merchants give special promotions and discount codes. Such features include; display rules, animations, display rules, conversations among others.
Remember if you want to determine the efficiency of the popup campaign you can do so by accessing the user interactions with the newsletters.
MageAnts is a vital agent of newsletter pop-ups. If you want your business to bloom, add this marketing tool on your site. Source email addresses of clients who are interested in your business. Use them to generate leads, display popup rights and allow easy subscription of website viewers.
Businesses no longer use Flyers and posters to promote their Products. MageAnts has greatly is embraced the sending of newsletters via email. This process helps collect the important leads of customers interested in your company.
You can enable the extensions to acquire home page popup. This extension does well with email marketing. It ensures that you have sufficient clients who like your products due to maximum usability and customization.
IWD Agency has a classic web design for responsive newsletter popups. With Magento 2 popup you can easily adjust the content and design to fit your sales. Magento 2 newsletter has intimate settings which you can alter to suit your promotional desires. You can activate the newsletter popup, control the width and set the time taken to show the popup to your clients.
Remember to enable newsletter configuration to be able to determine whether the customers did subscribe to your newsletter. A text link at the footer helps your clients activate the pop-up. To have more subscribers, enable social media icons with specifications of hover color per social icons. IWD Agency supports all social media accounts.
Tigren has an excellent popup manager for Magento 2. You don't need knowledge on programming to work with it. With this Magento 2 popup extension, you can create unlimited pop-ups, freely customize, track popups with detailed statistics. Once all that is achieved your online clothing store increases traffic.
You can choose any page in your online store to show popup by few clicks. There are many positions on each page, each option offers the same results which make the popups enticing to the customers.
You realize that you can't customize some parts of a designed website, but with popup manager, you can customize popup to suit your purpose. With it, you can create and manage all popups on your website.
In addition to open popup, you can create an entirely new popup in the back-end. Popup manager for Magento 2 uses Impressions, Window closed, Click inside popup and Goal completion to analyze indicators to determine whether you use them effectively.
Solwin Infotech has demonstrated that Advanced newsletter popup Magento 2 extension is the cornerstone for the online store. It displays newsletter popup when clients log in your website with a custom message. With a newsletter, you get several orders and new subscribers.
Solwin provides easy to install and manage customizable extensions and beginners needn't worry about the advanced newsletters. They are also fully responsive to any device. It has also delay option of the popup window which can be adjusted to fit the time that the store owner wants.
In this extension, each newsletter subscription form is displayed for only one user popup window at a time. It becomes easy for the store owner to use a custom title or message to customize newsletter popup with the background color. You can also activate social links with custom social icons as admin.
Many store owners are extremely excited by the module. You can choose your extension from Solwin because they offer 100% open source that is easy to customize.
We considered the best Magento 2 Popup extensions for any kind of store. But, we would like to tell you a couple more tips on how to use pop-ups.
Don't hit your customers with pop-ups during the first encounter allow them to get acclimatized with the design and layout. Use only the main popup at the home page to attract customer with your current big offer.
After users have browsed enough (more than 2-3 minutes), hit them with popups and expect a positive response. Small popups at the left or right corner of the screen are smooth and won't distract the user from searching a product.
Ensure that the pop-ups are easy to read, comprehend and exit at will and you'll see them collecting tremendous benefits for your online store.
How to Install Magento Popup Extensions
It's extremely easy to install Magento Popup extension.
Step 1. Using Ready to Paste, you download FileZilla or WinSCP clients.
Step 2. After downloading, log in to access downloadable products and then put the code into the folder.
Step 3. You can now extract the package and link to your server using WinSCP or FileZilla Clients and upload the folders to your server.
Step 4. To finish up, run the command line to confirm whether the installation is complete.
Summary
Magento 2 popup extensions are active marketing tools that increase conversions for your online store. With the five pop-up extensions, you can decide the one that best suits your eCommerce business and marketing strategy. It would be wise to take your time to know more about frontend functionality of the reviewed module since different extensions are customized differently. You will realize that these conditions suit the most demanding store owners.
Article rating (8 Reviews)
Do you find this article useful? Please, let us know your opinion and rate the post!