Business Benefits To Having a Pop-up Shop for eCommerce Brand
Have no time to read?
I'll read
Generate Brand Awareness
Pop-up shops come with many benefits, one of them being the ability to generate buzz for a brand. They are often viewed as a great marketing tool for their ability to attract a large number of people.
Most people always feel attracted by the emergence of a new store, especially when they have a unique style. The desire of a person to purchase an item is always influenced by a lot of things and scarcity is one of them. Opening a pop-up shop with an exact end date will always encourage consumers to "hurry up while stock last."
Using them is always seen as one of the best strategies one can use to build brand awareness.
Letting the customers know the end date also creates a powerful sense of urgency and thereby attracting more people.
The pop-up shops offer a platform to showcase and tell people more about your items. This creates a personal connection between you and the customers, which is vital in business.
Test Out New Markets
When starting a business, one of the things you should be focusing on is how you can validate the demand for your items. For this to happen, some monetary transactions have to take place, right?
Well, you can use pop-up shops to test out new markets as they offer a platform to validate the consumer demand before you invest in the business fully — all you only have to come up with a few items to test at the pop-up shop.
For instance, suppose you have a business idea about a new product, you can first try out a few samples at your Instagram account or other online channels to see the reaction and demand. Then you create an event with a presentation at the pop-up shop and see how they perform in terms of crowd attraction. You can always do this in other places to try and find out how the products will perform in different areas.
Create a Positive and Emotional Experience
Pop-up shops often create a retail environment by exploiting the power of experiential marketing i.e.; they're creating an experience. Nowadays, a good number of shoppers would rather spend their money on experiences and only spend less on items. Some of these experiences include dining at a restaurant and at the same time buying some clothing bits afterward.
Well, this strategy might have worked for a few retailers. As a result, the pop-up shops can be used to exploit the gaps left in the market. Naturally, pop-up shops have the power of novelty, which also adds more to the overall positive effect. In short, running a pop-up shop can enable you to engage your clients on a personal level.
Engage Customers Offline
It is often quite challenging to decide to buy a product when you can't see or even feel it, right? Most people would rather try before they buy. This has since been seen as a factor that can influence many shoppers to purchase the products offline.
To overcome customers' typical pattern of behavior, some retailers have resorted to shipping the products to the customers before they are paid for.
This has proven to be much more expensive, thereby making the use of pop-up shops as an affordable and strategic solution to bring your products closer to the consumers.
Pop-up shops enable consumers to try the products, touch and receive a live demo from the merchants. Additionally, the face to face interaction between the consumers and the business operators makes it easy to attend to all the questions customers might be having. This results in a more direct influence on your customer's buying decision.
Create Urgency
Nowadays, it is a common practice for many shoppers to go "showrooming." This is a process where a person visits a shop just to have a look at a particular product and later purchase it at a lower price online.
To prevent this scenario, a pop-up shop helps to create a sense of urgency, thereby causing more customers to take action.
Since the pop-ups usually last for a short period, people are more likely to feel the need to visit such an event and buy the goods. The thought that the products won't last for long increases the chances of a customer purchasing a product immediately. This technique works best, especially when you are dealing with unique products that are difficult to come by.
Unload Stocks
If you are looking to get rid of your old inventory, then think of no other better way than offline sales. It also prevents you from making more sales and ties up some budget that could invest in other projects.
Pop-up shops can relieve you from this, especially if you are dealing with goods that have a short shelf life. You can use a few new displays to attract the crowd as this will help you by encouraging impulse purchases, thus getting rid of the old stocks.
Cost Savings and Less Risk
As said before, pop-up shops always run within a short time. They are also smaller compared to the regular stores when it comes to size. This is quite beneficial since you won't be spending significant budget on rent.
They are also a better option, especially to those looking to start a business but do not have enough capital to rent a retail space. This is usually seen as a cost-saving alternative.
Now, let's put things into practice and consider how to arrange all the important questions to launch a pop-up shop campaign.
Things to Consider When Holding a Pop-Up Shop
Let's suppose that you've come into the decision to open a pop-up shop for your new collection.
What are the steps to do it?
Let's start with the financial question and move on to each stage of the preparation, launch, and post-event activities.
How Much Does a Pop-Up Shop Cost?
Your first step is to find out the range of prices for rent of the future Pop-up store space.
How to do it?
The first step is to define the location. If you operate in one country, the choice is obvious, use either your business location or the capital of the country. This will allow you to reach more people or more precisely your audience.
The second step is to choose among the type of space. It can be a restaurant, bar, university hall, or warehouse. The price depends on the size and location, so it's up to you and your brand.
As an example, we found a great source called Popertee that specializes in finding places for pop up stores. You choose the criteria that are suitable for your brand and select the space in the UK and Ireland.
Also, you can check Appear Here – for renting in the UK, and for the USA and other countries – Go Pop-Up, POP UP SHOPS. You can be even more creative and rent a truck for your future pop-up store. The example was performed by a Nomad fashion brand.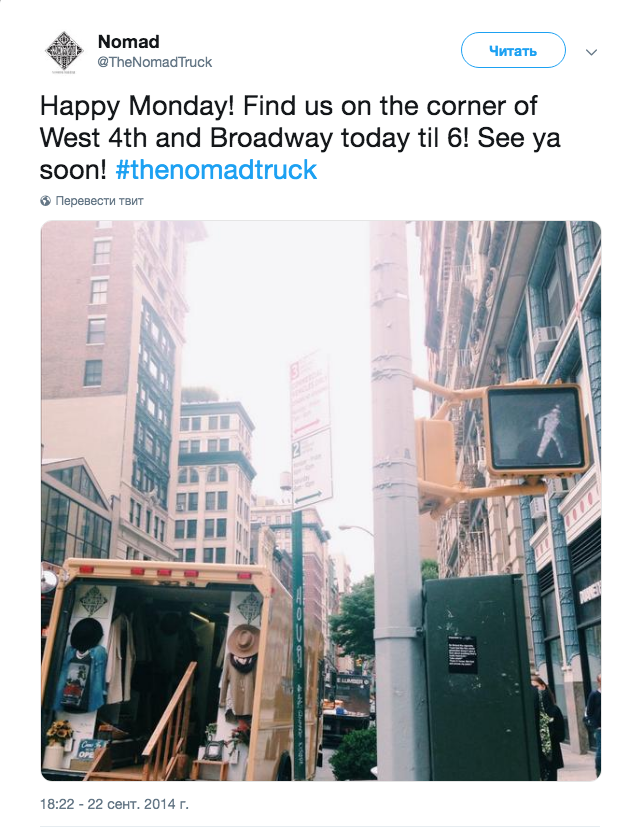 According to the results calculated by Popertee, the cost of one average 30-day pop-up store is equal to €29,085 (about $33,000). Blackenterprise has mentioned that the price varies from the type of pop-up shop. A temporary pop-up shop is around $1,500 – $10,000 and for a bigger space (for example, the kiosk) it's $10,000 – $30,000. An in-line stores costs from $20,000 to $100,000.
It is essential to remember other possible costs. Among them are:
Marketing
Operations
Store Design
Fixed Costs
Marketing is one of the most important costs that should be considered. Creating social media campaigns, involving influencers or setting an ads campaign needs resources. But with proper planning, you can manage all the budget spent, and divide it evenly between all the categories.
Operational costs refer to the staff you hire for the pop-up shop. These are sales assistants, cleaning and maintenance, also a reliable POS system, that can be connected from any online store on Shopify or Magento and other CMS. However, by monitoring visitors and sales, you can adjust the right schedule for the staff and reduce unnecessary costs.
Last but not least is store design. That's where the creativity comes into the place. You can purchase the decor on vintage stores, marketplaces and even bring something from home so that you can spend money only on necessary adjustments.
Fixed costs are the rent fees, Wi-Fi, security deposits, insurance, and so on. Once again, you can manage and influence the statements needed, and therefore reduce the amount spent.
As we've touched marketing costs, let's find out which channels are the most effective way to promote your Pop-up store.
Which Channels to Use to Promote your Pop-up Shop Venue?
In the beginning, you need to look at and analyze your target audience. Keep in mind their buyer persona's portraits, try to make a list of places, magazines, and influencers who match their interests. You can involve all the channels to promote your event. It can be a one-time effort; however, you may strengthen one of the channels to attract customers.
For example, by collaborating with a famous brand or an artist, you may increase your visibility. Also, if you have a team of influencers (it usually works well in fashion, cosmetics and fitness industries), their audience will become your customers as they will promote and translate the vision, message and overall brand's image to them and increase people's intent to buy your goods.
You can also create a press release about your upcoming event, and make a couple of announcements in your blog to attract people's attention.
Preparation of the Venue
Here are some more details about the Pop-up venue preparation. Get ready for social media announcements and sharing information exposure before, during, and after the event to keep your customers involved in the whole campaign.
Create custom #, mention all key influencers as well as your customers' stories in your brand's account, and make a live video of your event. Even if some of your customers couldn't visit your store, they will be involved in the process by watching all the video, images, and reading the articles and reviews.
Build a separate landing page for the event as Grammar did.
Collaborate with places near your event (hotels, restaurants) to get some discounts for your visitors in return for some free promotion. People love to get discounts and deals.
Make some countdown by sending some email reminders and add some sneak peeks of the preparation process.
During the Pop-Up Shop
After your Pop-up shop opened you can continue to hold some activities on social media and engage your customers:
Host an online contest and announce the winner at the venue.
Involve your local influencers or bloggers to share some updates on the event in your account.
Encourage your customers to share their content on your social media account, comment, and repost your content too.
Post Pop-Up Shop Actions
After your pop-up shop campaign ends, you can still engage with your customers and use the content you collected during the venue. These are the things you should consider as your post-pop-up activities:
Share memories of the past pop-up event with your customers via social media accounts as well as highlight their pictures on your feed.
Make a blog post, video, and add pictures on your company's website.
You can use the same branding ideas from the pop-up shop for your new product presentation, and you'll get more attention from customers with a clear brand image in their mind.
Some offline ideas to consider for your post-pop-up shop promotion activities:
Partner with an offline brand to offer a pop-up experience within their brick-and-mortar store.
Participate in local fairs, markets, or events as a vendor.
In the end, the most important part of this activity is that you create your brand story, share your vision, and bring it through all the experiences.
Examples of Successful Pop-Up Shops' Campaigns
Since the emergence of pop-up shops, many businesses have tried it out and below are examples of successful cases.
This is a UK based brand dealing with the manufacture of gym equipment and other accessories and selling them online. Gymshark has been using pop-up shops to promote and sell their products in different areas, thus enjoying massive success as a result. They usually start with short announcements through their blog, Instagram accounts, and brand's ambassadors. Here is the example of the video of the past event:
Gymshark has gathered people in a big factory space loaded with their clothing. They've invited all the ambassadors and fitness influencers so that people had a chance to talk to them, joining various sports activities and interview sessions. The whole campaign was under #Liftbrum and with a motto – We lift the city, which corresponds to the Gymshark's vision of high-quality fitness apparel & accessories brand.
COS is an online fashion brand that has managed to use pop-up shops to find great market opportunities in different parts of the globe. Their vision of a modern, functional, and considered design is successfully brought through their clothing collections as well as matching pop-up shops, and other related events to promote a brand.
This has seen the brand gain much popularity and success since they also deal with unique products for both men and women.
This is a clothing manufacturing company based in America. They mainly manufacture quality packed underwear and other sports equipment.
The business used the pop-up shop to open up a fake lingerie store that caught many by surprise as they used this opportunity to show their lingerie as a high-quality brand.
Summary
As you have seen, using pop-up shops can greatly benefit your business. If you are looking to push your brand name while building a deeper relationship with your customers in person, then this is the way to go. This can also create more content when it comes to social media thus bringing your brand to life. Yet, all these will turn to reality when you put in the effort. Embrace the use of pop-up shops today and watch your brand transform.
Article rating (5 Reviews)
Do you find this article useful? Please, let us know your opinion and rate the post!