Cyber Monday Week 2: Bulking Up on Content
We have already warmed up and continue to prepare for Cyber Monday. And our Week 2 will be dedicated to the creation of mega-popular targeted content.
Content and targeting go hand in hand. You can create the absolutely best message in the world, but if it's delivered to the wrong recipients, it'll be a real flop. The first thing we recommend to do is the segmentation of your customer database and creating the targeted content for each segment.
These are the things we are going to do this week.
Task 1. Create Segmented Holiday Email Campaigns
Segment your email database. You can make segments around demographics, purchase behavior, the number of orders, favorite products, and more other criteria for the most targeted messages.
Choose your segmentation tool and try to divide the customers into such groups as exhausted, involved, and exclusive. Then set up targeted campaigns.
Recall the last year Cyber Monday. Segment the customers who purchased from your online store last year Cyber Monday. Consider them as a loyal audience.
Create a campaign targeted to your most loyal customers and big spenders. Here you can use recency, frequency, and monetary segments. This data is often stored in your online shop database.
It's pretty important to know what products each customer prefers. For example, if you know that your customer is a woman, and she often buys clothes in your store, it's too little chance that she could decide to buy men's shoes.
Task 2. Launch Your Collection of Emails
Prepare your sign-up form. Take the time to optimize your email-collecting strategy before the Cyber Monday. If it's necessary, upgrade your sign-up form. Consider the plan on where you are going to collect emails.
Give an advantage. You can add something profitable for a customer to make him leave you the email. It could be a discount, some bonus or useful material, and other interesting things you can come up with. But this benefit should be honest and profitable.
Use these emails to premarket your Cyber Monday campaign. As far as we know, there is a large problem of Cyber Monday: you can't predict the right time for your promotional newsletter because everybody starts to send such campaigns that day. So, it's better to prepare your customers for shopping and give them a reason to visit your online store on Cyber Monday before it starts.
Now we are working on the "white paper" on Cyber Monday and preparation for any holiday in the online stores. Subscribe to our newsletter, and we promise to send it to you when it is ready. 
Task 3. Add Shopping Opportunities on Social Media
Increase the frequency of your social media posting. Start your promotional campaign on social networks and announce your products and discounts more often. This way you attract the larger audience.
Build your social media content ahead of time. We should be ready for daily and weekly posting on social media. And it's great to have a step-by-step plan. Do you remember? We did it last week and created a calendar with a plan. And we should have all the things done and prepared, and just post the content on the planned dates.
Canva is a good helper in creating graphical content for social networks. It offers a large number of opportunities for work with images and allows you to create the posts exactly according to the social network format.
Add custom landing pages to your social media profile. And start to promote them. A landing page is a good way to encourage sales. It gathers your customers in one place and helps them to shop online or get their benefits quickly and easy.
A holiday-themed custom design attracts the visitors and turns on their emotions. So we recommend you to pay special attention to the design and UX of your holiday landing pages.
We want to help you create your content plan. Click on the image below, and you'll get the access to the file. You can copy it and use.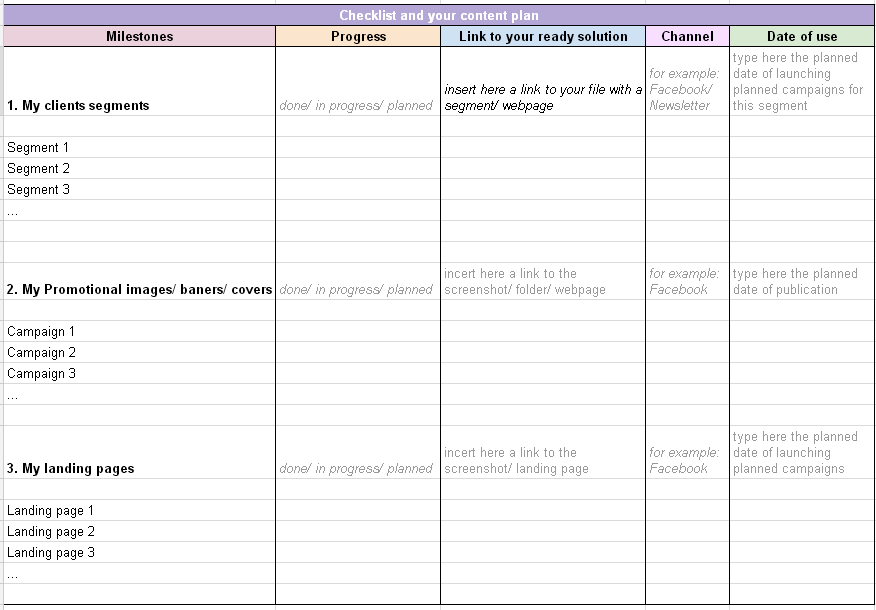 Make your website and content mobile-friendly. Nearly 80% of social media time is spent on mobile devices. If you know what I mean:) If your website works right on mobile devices, and social media campaigns are also comfortable there, you get more chances to get more orders.
Check your website for mobile-friendliness with Google SpeedInsights, and focus on such things as the color and size of fonts, the color of backgrounds, the size of call-to-action buttons and other important details of your web pages. Test your campaigns before launch.
Summary
So gather all your imagination and inspiration, take all necessary tool, and create the amazing content that will attract most of your potential clients. And remember the following: people buy products because of their mood and emotions. Keep them happy and interested. The second-week workout is over. Next time we'll cope with
outrunning opponents
.
Posted on: November 14, 2016
Article rating (1 Reviews)
Do you find this article useful? Please, let us know your opinion and rate the post!