How Much Does Magento eCommerce Cost?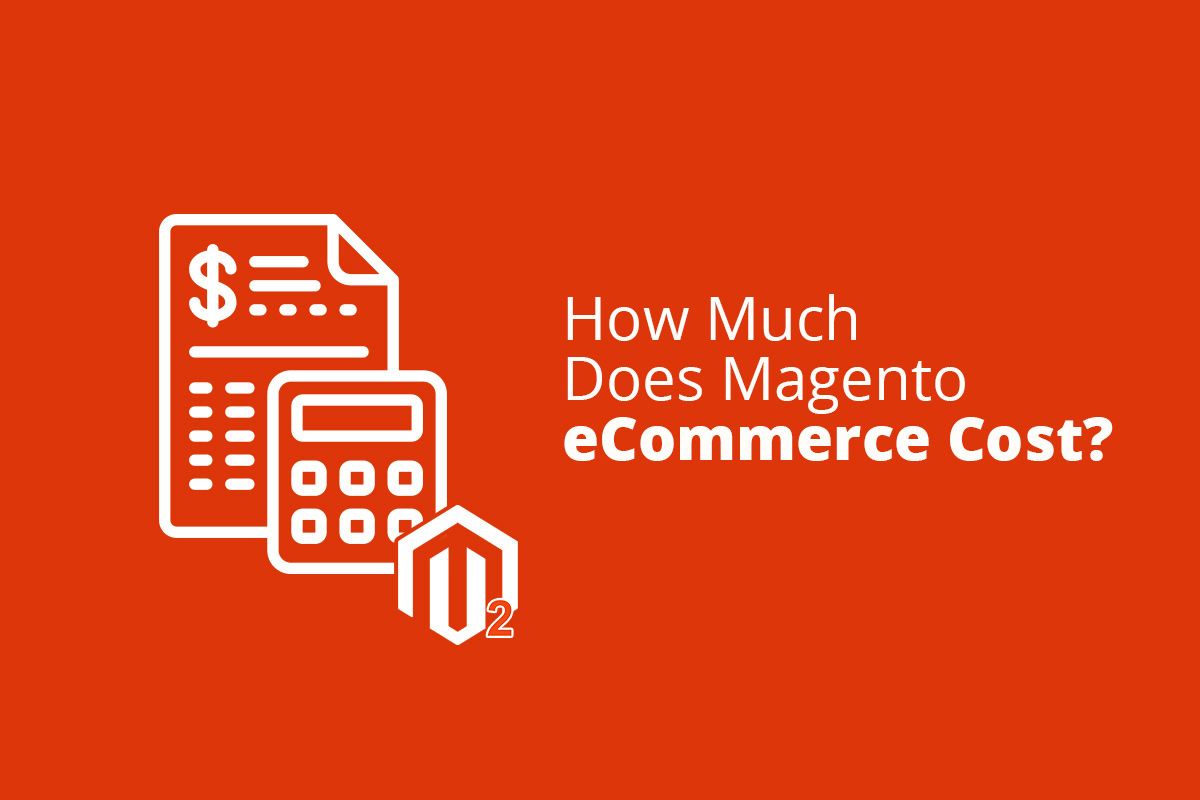 If you want to know what it will cost to create Magento 2 online store, we are going to make the things clear today. The cost of building a Magento online store depends on the choice of your edition and further customizations. The process should begin with a full assessment of what capabilities you want your online store to have. You should also differentiate between features that are necessary versus non-critical. The main goal of doing this is to ensure that your budget can cover all the critical operational features of your store first. Once you can cover this cost, you can use the rest of your budget for other non-critical features. Every business needs to make the smartest use of its resources. The critical features of your online store should be established first. Then you can include other items.
It may seem like a complicated exercise, but we promise you, it is not. In fact, we have laid out everything you need to know to guide you through Magento eCommerce cost structure. Let's start with the initial software cost.
Two Main Approaches of Magento Pricing
There are two pricing approaches that you could take. You can either opt for the Magento 2 Community edition and then add on whatever capabilities you require. But the costs of too many additional extensions can add up. This approach may end up costing more than you budgeted for. The other option would be to opt for the Magento 2 Enterprise edition. But this method may end up being a wasteful exercise if you don't need the full power of this version. Therefore, it is essential to establish your critical needs first. When you know what you need, you can then see which approach suits your pocket best.
Magento Small Business Pricing
Let's highlight they key pricing points and price range for the package. Magento Open Source is entirely free as a package. You can request the demo, and then after reviewing it, you can download the recent Magento Open Source edition and start to work on it.
Magento Enterprise Pricing
The price of all Magento Enterprise editions is dependent on what your exact needs are. The final price will depend on your store yearly revenue.
Magento 2 License Cost
For the Magento 2.x Commerce, license cost starts from $22,000 for the year plan. This Magento 2 Enterprise Edition Price is for merchants generating less than $1 million. Commerce Cloud costs around $40,000 for the year plan. The price varies from $22,000 and $40,000 to $125,000 and $190,000, if company generating between $25 – $50 million per year.
| Gross Sales Revenue | Magento 2 Community Edition (CE) Cost | Magento 2 Community Cloud Edition (ECE) Cost |
| --- | --- | --- |
| $0 - $1 million | $22,000.00 | $40,000.00 |
| $1 - $5 million | $32,000.00 | $55,000.00 |
| $5 - $10 million | $49,000.00 | $80,000.00 |
| $10 - $25 million | $75,000.00 | $120,000.00 |
| $25 - $50 million | $125,000.00 | $190,000.00 |
The stats above are showing the average price for packages and relies on the gross revenue of the store. However, the price also relies on the functionality implemented, and the maximum that we pointed here is for the fully functional Magento Commerce Store.
Basic Magento Website Cost Structure
Some factors contribute to the development costs of a Magento store. Let's look at the most important aspects that you need to know about.
Magento 2 Server Costs
A Magento 2 server needs to be able to run a Linux x86-64 operating system. This should be supported by at least 2Gb of RAM, or else a swap file will be required. Databases must be built with MySQL 5.6 minimum. The servers that will run your Magento 2 solution must be able to perform to these standards. The cost of the actual Magento 2 server solution will depend on which edition you decide to use.
Magento Hosting
The hosting cost of the actual Magento 2 server solution will depend on which edition you decide to use. Please, take into account that different hosting providers charge a specific price for the hosting solution. Simple hosting starts at $3,99, and for the advanced plan, you can pay from $200 per month.
Magento Website Development Costs
Developing a Magento website does require specific specialized skills. Developers that can perform this task have different costs. This cost is dependent on what kind of site you expect. A website with a simple checkout protocol will be cheaper to develop. A website that needs more functionality will be more expensive because it will require more development.
Additional Module Packages
The costs of developing your online store will increase if you decide to add functionality by means of using module packages. Some modules are free to download. But several of the most useful modules can only be purchased. The cost of your website will increase with each module package that you buy. To learn more about the prices for Magento 2 extensions, you can visit Magento Marketplace where you'll find lots of useful modules for various needs.
Marketing Costs
Marketing is not directly related to developing a website. But once your website is created, you want to direct as much traffic as possible to it. The costs involved to market your website are counted as part of your development costs. This is because marketing is part of making your Magento store as successful as possible. Some marketing strategies include SEO, online marketing campaigns and content management. Marketing costs are usually counted as an optional cost. But realistically, marketing your Magento store is necessary. No matter how great your store is, people still need to be told about it.
Magento Development Cost
Total web development costs consist of developers' hourly rates and the scope of work needed.
Magento 2 Developers' Rates
Magento developers' hourly rates can range from $20 to $100 per hour. The actual rate will depend on several factors. The development requirements of your Magento store is one such factor. A simple shop that requires little technical development will be cheaper and vice versa. Another factor is the developer(s) location. Different developers may charge different rates for the same job. Their rates depend on the country where the developers are from. Some regions, such as the USA, European countries can have higher rates than Ukraine or Poland, for instance. It depends on the world market and the tax system in the country.
Also, besides the rate, we recommend you to pay attention to the experience and skills of a web developer. There are specific skills that only experience can teach. And a professional developer is more likely to have these skills. You can check it by requesting the developer's CV and portfolio, conducting the face-to-face interview, or taking several trial hours for free.
The Scope of Work for a Project on Magento 2
Every Magento online store has essential features that they must have to be operational. Let's look at the necessary works that your online store will need:
It is a significant milestone that helps to clarify your exact needs and the functionality your online store will include.
Project architecture creation (also 40-80 hours).
On this stage, the team thoughts out the whole project core and architecture it will have.
Magento 2 installation (1-2 hours).
After that, you get Magento 2 out-of-box functionality that needs customizations.
Backend implementations (needs at least 200 hours and depends on customizations you may need).
It usually includes modules set-up, custom module development, API development, and 3-d party integrations.
Frontend implementations (starts from 200 hours).
It includes setting up a theme or designing a custom theme.
The approximate realistic total for a project of this scope will take around 1000-2000 hours.
Custom Magento Website Cost
What the customization means as an action. The customization is necessary if you want to rebuild or change specific default feature for your business needs. This requires additional developer's work and could be counted as extra development hours.
You can customize the theme, modules, and any store features as products, orders, search, login, checkout, etc. Also, you can contact us so that we can customize any feature for your store and help to clarify the costs according to our estimation. A customized solution ensures that you do not waste money on paying for features and capabilities that you may not need.
How Much Does a Magento Website Cost?
You can calculate actual development costs as:
The number of development hours * web developer hourly rate
If we will calculate the approximate costs, it will look like the following: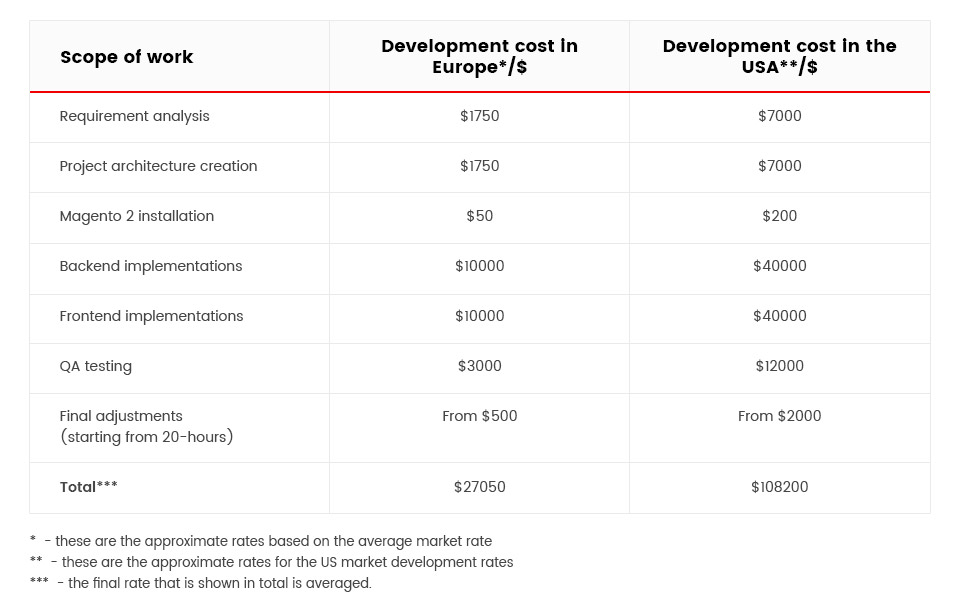 This is not the final amount. All the factors mentioned in this article will contribute to your total. You should keep in mind that initial development costs may seem expensive. But your Magento online store will begin seeing more revenue, and you will start recovering your investments.
Summary
We are glad to help you with this guide regarding the questions about the cost of the project on Magento 2. If you need any help with estimating your project, contact us. We'll be glad
to develop a remarkable online store on Magento 2
for you without any unnecessary costs!
Posted on: January 4, 2018
Article rating (2 Reviews)
Do you find this article useful? Please, let us know your opinion and rate the post!