Let's bring your ideas to life! Custom Magento development can help you take your business to the next level and make it unique! If your Magento store needs a simple solution or has complex functional requirements, our WEB4PRO certified Magento experts help you.
Why Do You Need Magento 2 Custom Development?
When you run a website and are using it to meet business goals, you want to be constantly improving it. All businesses grow and evolve, and at the certain point business owners often decide to create and implement unique designs and capabilities for their sites.
We know that you have plenty of ideas for your project and want to implement them. However, standard Magento 2 modules and themes are sometimes not enough. But with the right team, anything is possible. An experienced team of web developers can successfully cope with any task you set them.
If you want to spend as little time as possible on getting the results you need, it's a smart idea to have a team of specialists that will help. We'd be happy to offer our skills and knowledge, as well as our care and respect, to your project and business. First, let us tell you a little more about how Magento customization can work for you.
If you have a Magento eCommerce solution, and "out of the box" functionality limits your goals, we can perform custom Magento theme design according to your needs. We can implement the specific modules that you need, and additional customized settings and integrations will provide your online store with modern features and capabilities.
What Are Magento Customization Services?
Many aspects of your website can be customized, and we'd like to familiarize you with the main ones:
Creating a Custom Magento 2 Theme
If you want to stand out from the crowd and create a unique design for your eCommerce store, a new Magento 2 theme can help to improve your website user experience. We'll develop the theme according to your design and desired features. It will be 100% compatible with default Magento 2. Your website interface will be user-friendly and interactive and will meet your specific requirements.
Building a Custom Magento 2 Module
Another useful thing to consider is Magento extension customization. When the default Magento 2 functionality is not enough for your needs, you can extend it with custom solutions. Magento modules let you perform third-party integrations, implement custom settings, and create new rules for behavior between Magento components.
Our WEB4PRO team members are experienced in Magento 2 development and they're prepared to create modules of any complexity. This is no small feat since custom modules can conflict. That's why it's important to have professionals help out who can perform module configuration properly. Magento 2 extensions that are set up and developed correctly will work efficiently and allow you to add new, modern features to your online shop.
Customizing Magento 2 Shopping Carts
Nowadays, customers expect more usability from online stores, especially when it comes to buying products. Your shopping cart should be easy to use since it's one of the essential elements of your online store. Nothing should make it difficult for clients to complete purchases. Magento customization of shopping carts will help your store earn client loyalty. Just take a look at the data from this Statista report.
Here are the reasons why people abandon their carts:
54% – Shipping costs
35% – Unaware of shipping costs
21% – Long registration and purchasing processes
16% – Site is difficult to navigate
What does this mean for you? Well, lots of shoppers abandon their carts because online stores lack a friendly user experience. Make sure your website visitors have a convenient, easy-to-use shopping cart; make sure they know about shipping costs ahead of time, and add more flexibility to the purchasing process. In a nutshell, focus on customizing Magento 2 shopping carts. By doing this, you can reduce abandoned cart rates and get more sales.
Making Product Customization in Magento 2
Another new trend in eCommerce you should know about is product customization in Magento. It works like this: Let's say there are a lot of products in your store, and users can choose specific features for each one. Customers can build their own designs by choosing sizes, colors, and other product elements. This works exceptionally well for stores that sell furniture, jewelry, or clothes. But there's no need to limit it to those kinds of stores. Give your customers more flexibility and freedom.
Our Magento eCommerce Customization Services
So, are you thinking you should adjust Magento to meet your needs? And you're thinking that custom Magento development would help, right? That's what we're here for. We are ready to create the following elements for Magento 2 eCommerce site.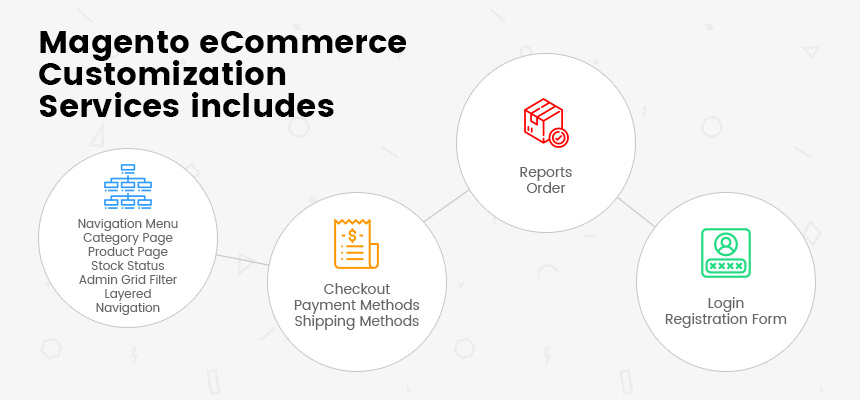 The WEB4PRO team is experienced in Magento 2 custom development. The flexibility of Magento 2 allows web developers to build fantastic web solutions that make businesses successful. Request something special, and we'll make it a reality.
Have any ideas? We can bring them to life and customize Magento 2 site just for you. So, got any customization requests? Let us know. Just drop us a line and we can begin writing our success story together! We are prepared to help you with your online store and make it as great as possible.
You'll get:
all your great ideas incorporated into one project;
your requirements met and your wishes brought to life;
a unique eCommerce solution that will make you more successful.