Magento 2 Demo Features: Overview
One of the things that put Magento ahead of other CMS options is its secure network of community support and online learning resources. Magento has been designed so that it's pretty intuitive to use. Plus, Magento is an open source, and anyone wanting to find out more about it has access to countless resources online. However, you need some time to learn how to set up certain settings and fill out your store with the information. Today, we'll be showcasing the Magento 2 demo. This is a free online resource that lets business owners to explore the Magento 2 backend or interface with the frontend like a user. You can look into site features and functionality with sample information for a first-hand feel for how it works before finally selecting a CMS. Read on for a detailed look into the demo.
Magento Latest Version Features
The latest version of Magento 2 significant improvements in performance and security, as well as enhancements to shipping options, the dotmailer extension, and Amazon Pay features. More than 150 fixes have been included in the core code, and 25 improvements have been made to security. These improvements include refinements to the catalog indexing process, product sorting, and the checkout process.
Another benefit of the Magento community is that users can send feedback in and any bugs or usability improvements will be included in the next version. The current version features more than 350 adjustments based on user feedback. Several of the core-bundled extensions have been enhanced. Amazon Pay is now included in the payment options, and the current version of Magento features a payment provider gateway, making it easier than ever before to integrate your store with payment providers. The dotmailer extension has been updated for better GDPR compliance, including consent captures and warnings when you attempt to include non-subscribers on the account. These are just a few of the enhancements you'll see when exploring the demo. Learn more about its features below.
Magento Demo Login
When you want to login to the Magento CMS demo, just follow the demo link and sign in as an admin. Take a moment to set up your username and password, and you're in! The demo has sample information that can be worked with just as you will work with your live eCommerce site.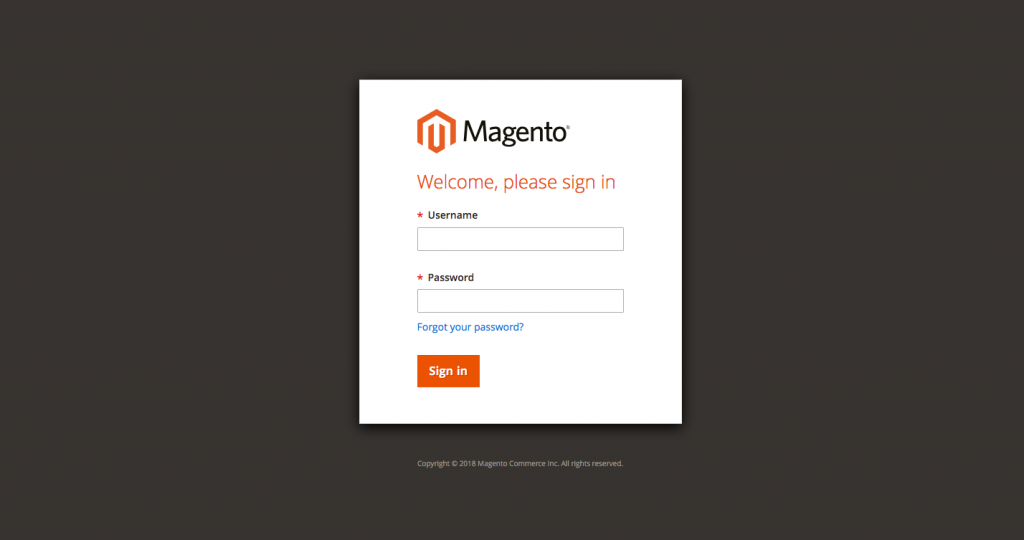 You can check out the frontend to see what your customers see when they visit the website or explore the backend, changing settings and configurations to see how these settings shift site functionality and customer experience.
Magento Demo Store Admin Panel
You'll be directed to the opening page for the demo once you log in. The admin sidebar is along the left side of the screen. This is the central control panel for your site. This lets you navigate the entire backend of the site. Dashboard, System, Customers, Content, Marketing, Reports, Sales and Find Partner Extension. Here are some of the options and functionality of each section.
Dashboard
The Dashboard is the homepage of the Magento 2 test site. It features details regarding sales and customers. You can use this information to refine product listings, showcase bestsellers, and check sales within a given time frame. It provides an overview of company productivity and site success. The Dashboard also gives you access to information about last order, lifetime sales, and average orders.
There's also a row of tabs that let you look into your new and existing customers, bestsellers and most viewed products. Plus, you can search in intervals of a day, a week, a month, one year, and two years. The Dashboard also features a notification icon in the top right of the page. This will let you keep up with any important changes or updates. It showcases the essential aspects of Magento functionality.
Sales
The Sales section will let you go in-depth when exploring Sales. There are seven options in the Sales menu:
Orders
Invoices
Shipments
Dispatches
Credit Memos
Billing Agreements
Transactions
The Order section is where you'll go to input a new order. It keeps track of orders, shipping information and payment information, and the grand total. The Dispatches section shows the orders ready to ship. It helps you keep track of shipping schedules. It also lets you print dispatches for each order to go out. This makes paperwork easy. The invoices section can generate invoices and access all order information: customer names and dates and numbers of invoices and orders, to start. The transaction menu shows what's happening with each sale being processed.
Magento's Billing Agreement functionality makes checkout faster and easier by saving payment details for future orders. The Billings Agreement section keeps track of all billing agreements with each customer. When processing refunds, you can make a note in the files by going to the Credit Memos menu. Magento Wholesale Fast Order is featured on the frontend. This lets customers make repeat bulk purchases without having to enter each product individually.
Catalog Features
The Catalog menu has been simplified in the new version. It now has only two selections: Products and Categories. In Products, you can add products and configure your product display. It also indicates the type of each product and lets you search by product type. The Categories section allows you to group products by type. It also generates meta-information automatically by product type. This section lets you control product listing and showcasing. The Categories menu lets you set up swatches and categories, create product grids, and arrange product listings.
Customer Segmentation
The Customers section offers basic client information and shopping history. Address, email, and phone number information are stored in each user file. These files show whether orders were made online or in a physical store. Order dates, amounts, and products for each order are included in this section. It lets you do customer segmentation, grouping customers with others that have similar shopping habits.
The Customers menu will also show when they first became customers and whether they are online at the moment or not. Customer files and new customers are automatically updated from orders on the frontend. They can also be added manually in the backend by admin.
Advanced Marketing Features
The Marketing section offers key Magento features for helping customers find you. In one menu, manage email and newsletter templates, subscriber lists and queues. You can set up discounts, promotions, and pricing rules.
This is also the place to go to refine your SEO and search details. The Marketing section also allows you to manage user reviews and automate the sales process.
Content
Moving on to the Content tab, this part of the backend allows you to manage the structure and aesthetics of your site. You can arrange pages, set up widgets, and manage the content of your blocks. It also lets you set up the design elements of your storefront. You can come here to change the website themes and configuration. You can also create a schedule for staging content updates at desired times.
Advanced Reporting
In the Reports tab, you can find all the information you need, about any aspect of your company. You can find all the product information and automation details. You can explore sales and marketing details and access full reports on new customers, order counts, and order details. You can check into the totals for specific payment options, abandoned carts, and newsletter problem reports. The Advanced Reporting section also lets you explore details in even greater depth. Tax and billing regions, orders and revenue, everything is right at your fingertips. Check new customer accounts, coupon users, product wishlists, and a host of other details.
Stores
The Stores section is another improvement over Magento 1. It centralizes all store details on a single menu. You can come here to change your preferred currency and manage the currency rate. You can adjust your settings, establishing all the needed configurations in your storefront. This sets up all frontend actions to tailor site experience and eCommerce functionality. You can also pull up all the tax and shipping information and manage product attributes. This is where you go to find all tax rules, zones, and rates, shipping carriers and locations, and current terms and conditions.
Configuration
Your configuration is like the anatomy of your site. It lets you set up bootstrap parameters and tailor your command-line utilities like running indexes, disabling and enabling cache types and setting up translations. The Configuration menu also provides options for setting up themes or message queues, and for handling the production and storage sections. Payment options can be configured in the sales section of this menu and any settings changed here will be saved onto the site.
System
The System section lets you set up permissions and for all users, lock certain users out and establish user roles. You can come here to import adjustments to the website and export details to other platforms. Up to 25Mb can be transferred per import or export file. The import history of your site is saved, so you can keep track of all imported files. Tax rates can also be imported and exported between sites. In Systems, you can manage and integrate your extensions, set up extensions, and create backups. These are just a few of the features you can make use of. This page also links to Amazon logs and lets you manage encryption keys.
Tools
The System section also includes a collection of tools that come with Magento 2. They are great for managing your caches or indexes. You'll probably want to refresh the cache after adding new configurations to make sure that they are locked in. Another useful tool is the backup function. Save copies of your site so that you can go back to an old version if needed. Finally, the Web Setup Wizard tool makes adding and remove modules a cinch. It also keeps track of which modules are dependent upon one another. It makes sure all supporting modules are enabled and prevents you from activating conflicting modules at once.
Magento 2 provides everything you need to keep track of your store and update your site. Plus its intuitive interface guarantees that site upkeep will be quick and simple. Its tools and features are great for midsize to big businesses.
Summary
The Magento 2 Demo will let you get comfortable with all site options and explore the basic functionality of the site. Magento's design is so intuitive that after you try it you'll know exactly how to work with new products and new customers. A few moments later and you'll know the ins and outs of invoices and dispatches, catalog and product information, themes and settings. Best of all, comprehensive records are kept for each sale, meaning that there's no more need to dig through files to find the information. I know the options can seem a little overwhelming at first, so if you have any questions or you're ready to set up your
Magento 2 eCommerce site
, feel free to contact us.
Posted on: October 11, 2018
Article rating (5 Reviews)
Do you find this article useful? Please, let us know your opinion and rate the post!