eCommerce Website Design in 2020: Hot Trends & Examples
Have no time to read?
I'll read
Design is an art, a tool, and an approach to make an emotional impression and captivate hearts. Good design can convince people to accept your ideas, choose your product, and love your brand. If you are looking for helpful advice on modern eCommerce website design, our ultimate overview is what you need.
We analyzed the winners on Awwwards.com, asked experts, and collected top trends, examples, and practical tips to help you create an impressive eCommerce website. Enjoy reading and have an exciting journey around design artworks! We promise you'll derive aesthetic pleasure.
Modern Web Design with eCommerce
Modern web design becomes more lightweight, authentic, and creative. It focuses our attention on a product and doesn't destruct from shopping.
The following design tendencies help eCommerce web designers create an outstanding user experience and impress the website visitor right from the first glance.
Focusing on Brand Products
Products become the stars of the show. If you look at the majority of modern online stores, you'll find the common trait. High-quality product presentations make 60% of the successful design. Juicy and clean visuals make an impression and increase our desire to buy the product.
If we take a product card, we'll see only the necessary information needed to make up a decision: price, short product description, list of materials and features, a few rows from the care guide, shipping detail, and that's all! 🙂 It's better to show than tell!
Just look at how the Khrio brand shows its beautiful footwear. We don't know about you, but now we want their shoes. Their products look fantastic, as well as their website.
Khrio, Footwear, Italy
Getting Closer to Nature
The mainstream in the modern world is saving our planet and creating sustainable products. People are not indifferent to these matters. We all tend to get closer to nature and get back to our roots. This trend is growing its relevance in all design directions.
Natural color palettes and shapes, rich textures of materials help brands create a connection with nature. They draw our attention to natural beauty and make us feel comfortable.
Look how masterfully Bite offers its sustainable solutions with plastic-free packaging for their eco toothpaste. They build a connection between their products and nature using calm natural colors and smooth shade transition in this eCommerce website design color scheme.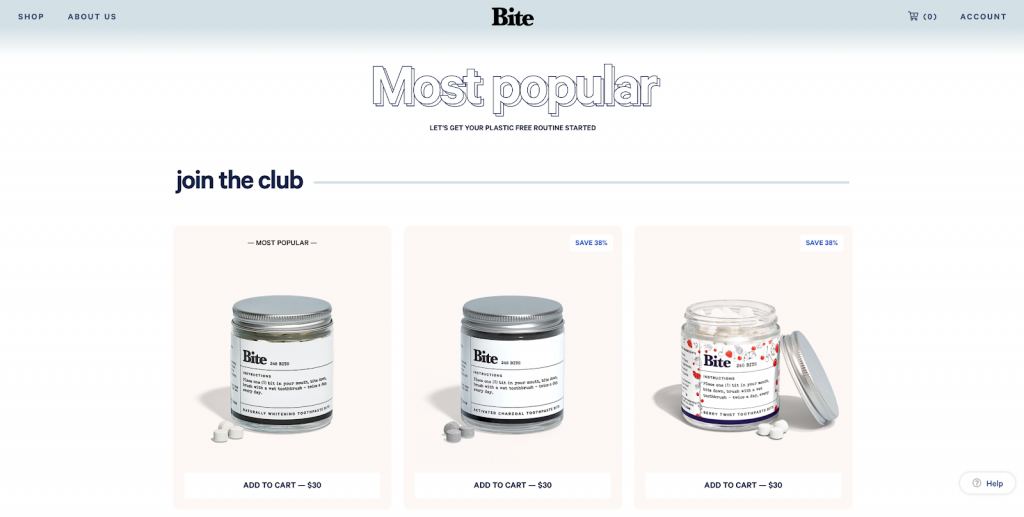 Bite, Cosmetics, the USA
Sustainable Swedish fashion brand, Filippa-K, supports their vision by showing natural textures of their products in detail. When you are picking out your perfect sweater, you feel like touching it right on the screen. Filippa K values natural beauty, and their models demonstrate fashion looks without any makeup or complicated hairstyle.
Filippa K, Fashion, Sweden
This nature-inspired trend helps to evoke sensual and visual emotions that are so desirable in our hectic and busy environment. People feel drawn to nature: organic materials, soft natural colors, green and airy spaces that create harmony, and make us feel relaxed.
Enhancing eCommerce Mobile Design
Mobile devices bring half of website traffic, according to Statista. Mobile design is critically important. It must be user-friendly and unfussy in such a way so that you can buy the product. Web designers should adapt web pages to easy finger taps and get rid of unnecessary elements on mobile that can still be present on a desktop. Furthermore, we should pay special attention to mobile payment methods that allow buying products contactless with a few taps.
MOS MOSH is an excellent example of a user-friendly website with an elegant design. Their website elements are accessible and easy to use on mobile. You can select the color and the size of clothes using swatches without additional taps. The buttons are large enough to tap with a finger. Take a look at their product page on mobile and evaluate your experience.
MOS MOSH, Fashion, Denmark
And to be fair-minded, let's see what Google thinks about their mobile usability and check the page with Google mobile-friendly test.
Mobile design should also be lightweight to load fast on mobile devices. If your customer can see the page after a second, the chances they'll stay and make a purchase grow.
After Google introduced the mobile-first index, the website speed on mobile is also a critical factor for your online store visibility. That means Google ranks search results by evaluating its mobile version. So, the higher your website speed on mobile is, the higher you'll be on Google search, and the more people will visit your site to become your customers.
Showing How a Brand Makes a Difference
Brands focus on quality, individuality, and emotional connection with customers. They not only sell their products but also introduce their values, mission, and brand positioning.
Why is it important? People want to believe in something, stand for something, and make a difference. Brands are eager to make the world a better place, inspire their customers, and turn them into brand advocates. That's amazing! We can see how brands compete not only with each other but also with different philosophies and beliefs.
Companies provide additional information about their manufacturing processes, innovation, design, and sustainability initiatives, dedicating inspiring and informative web pages for these purposes. Furthermore, they are consistent with their brand on all website pages. Responsible brands also improve their website accessibility for people with disabilities, ensuring that fonts and colors are readable, and content is easy to see and hear.
Look how Eton, Swedish menswear brands, delivers on their brand promise.
Eton, Menswear, Sweden
They show how their brand creates sustainable products and build trust with customers.
Whether that is awards, media quotes, key stats, it's important that (especially for new or challenger brands) you provide trust signals that provide the user with confidence. Understand your audience, be clear what you want the user to do on each page, then make sure the page is designed around this goal. Make sure you have a clear call to action on each page. Things that tend to work well to drive conversion include countdown on deals/promotions, high page speed, social proofing, providing trust signals that provide reassurance.

Ryan Anthoney,

Enterpreneur, Managing Director | 3Sixty
Brands bring us closer to nature, focus our attention on their products, work hard to be accessible right on the go, and make a difference with care about our future. Hopefully, you got some inspiration from these great eCommerce website design works!
*Don't forget to save the list of eCommerce design tendencies to have them always around!
Top eCommerce Design Trends 2020
We have just seen what views set directions for today's design concepts. Let's move on to practical design trends that you can apply for your eCommerce website.
Keep reading, the most outstanding website examples are waiting for you below!
Minimalism & White Space
As said before, products get into the focus of our attention. The white space in the ultimate black or white helps create a contrast with a product and put it into the spotlight. However, it's not necessary to use only black or white – that can be beige, gray, and other shades.
Look how This Is Sleep showcases its products and emotionally supports its value proposition. They offer conditions for a calm sleep and sustain this thought with soft colors and whitespace.
This Is Sleep, Mattresses & Pillows, the UK
Motion & High-Quality Visuals
Stock images for eCommerce websites go out of fashion. Companies invest in their product presentation. Brands even add motions to their product presentations using Gifs and cinemagraphs to make the experience more involving. They attract talents and search for faces that can express the character of their brand. Authentic, high-quality photos that look natural and hand-crafted illustrations help to put an accent on individuality and stay unique.
Jacquemus does this highly professionally. Their product images are true to life.
Jacquemus, Fashion, France
&Tradition goes even further and adds interactions with their collections. Each photo features products used to create the particular interior. We can just hover on the furniture piece, see its title, click and get to the exact product page.
& Tradition, Furniture, Denmark
Major design trend is to be 100% UX driven. So it is all about testing and weeding out all design options which reduce chances to turn a user into a lead. For sure in our every days business life we also need to meet CI, those superiors with their "gut feeling" etc. which often do not work towards this goal. But you should always keep the UX and testing perspective in mind. Let the numbers speak. Your users and customers will thank you. 

Jörg Pfennig,
Senior Executive Manager International Ecommerce | SIXT
Geometrics & Natural Shapes
Natural patterns, colors, and shapes grow their popularity. Geometrics is a part of nature. Websites become cleaner with the use of classic forms, straight and rounded angles, and geometric shapes such as square, round, and rectangle. Website elements (and brands' products as well) often have close-to-organic forms.
Let's see how Ashley & Co demonstrates its eco-friendly products. Regular shapes and lines make this online store look elegant and clean, bringing our attention to products and helping evoke the right emotions.
Ashley & Co, Cosmetics, New Zealand, the UK
Another good example is Gritz Brewing, which uses geometric shapes in its design. Bright elements help create a festive mood and emphasize the emotional benefits of their products.
Gritz, Drinks, Italy
Thin & Lightweight Lines
Thin lines add elegance to web design and create clean and airy space to highlight the key ideas. You can use them in grids, separators, buttons, illustrations. They work like accents and can create a handcrafted feeling or add a more straightforward business character to the website look.
We like the Swedish House of Dagmar. Their overall design consists of thin lines used in accents, fonts, buttons, and other interactive elements. This website looks pretty airy, doesn't it?
House of Dagmar, Fashion, Sweden
Virages use a lot of thin lines on their website. We can see both types: illustration lines that associate with a road trip, and straight lines that put an accent and separate ideas. The design creates an emotional impression and brings us close to the exciting adventures of motorcycle trips.
Virages, Road trips, France
Creative Typography & Storytelling
The trend of catchy typography is making a comeback. Creative fonts help bring the main ideas to the fore, catch the attention, and give a final touch to brand image. Now fonts become oversized and bold to grab the attention; creative and artistic to create the feeling of artwork; light and classic to serve as an emotional background. Furthermore, they contribute to the growth of another trend – storytelling. Brands don't just sell products but tell their stories that are behind the scenes. They share their values and bring customers to their world.
Collage Crafting plays with fonts and creates interesting digital effects.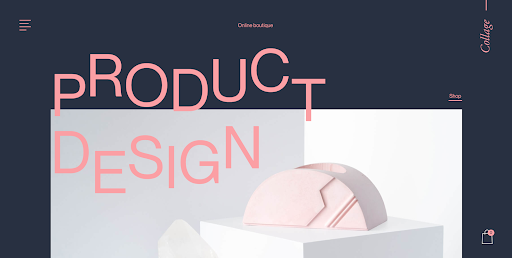 Collage Crafting, Deco, France
Famous LEVI'S Jeans use creative typography and share the stories on their blog that create the connection and love with customers.
LEVI'S, Fashion, the USA
Stick to less is more type of design. Provide specific info and clear design, use the psychology of colors to add it to your color template. Use fonts that are readable for users. Optimized design that loads up faster is for users to enjoy.

Ivy Xandra,
Arts & Design Professional | Mad Monkey
Mixing Illustration & Photography
Another design approach combining technology and artwork is mixing photos and handcrafted illustrations. Such works look fresh and unusual and add genuine authenticity.
Déplacé Maison put their footwear into the handcrafted artwork. That looks stunning!
Déplacé Maison, Footwear, Italy
Floating Elements & Life-Like Experience
With all these creative concepts and tricks, brands aim to create life-like experiences and a sense of reality right on their websites. They add floating effects with parallax, implement more interaction, and use 3D models to recreate the real products.
Moooi designer furniture looks real, and you want to touch and test it right now. And yes, their menu button deserves our special attention.
Moooi, Furniture, Netherlands
Look at this bottle of fresh Hinderer Wolf wine. It makes you feel like you are preparing for a picnic in a forest. This wine is almost in your hands – just add to the cart and take it. 🙂 Visit the page and scroll down: floating effects enhance the feeling of reality and make our experience more involving.
Hinderer Wolf, Drinks, France
Take and share these trends to keep up with the top eCommerce brands!
Attention Grabbers & 'The Icing on The Cake'
If you carefully look at all previous examples, you'll probably find several tricks used on each website. They all are clean, use geometric shapes and thin lines, and work on their creative typography. All these brands work on their product presentations and do their best to create life-like product images.
So how can the website differentiate itself among beautiful and modern competitors?
Of course, we all tend to copy some great ideas. But it's hard to repeat something that has an unobvious but cool feature, the icing on the cake. That can be a hand-crafted illustration, small floating bubbles (like we saw on Gritz website), authentic font, emotional video or unexpected image, juicy and bright background – anything that highlights your brand and triggers emotions.
These elements can grab attention or create an emotional background that hooks a website visitor. Find your WOW moment and stand out.
Now let's see how these trends work in action on the particular website pages.
eCommerce Design Best Practices
Besides being just beautiful, eCommerce design must serve two main goals: make an emotional impression and lead the visitor to the conversion. If the user can easily find things they need and quickly place an order, it's a successful design. We'll focus on the essential eCommerce website elements and best practices of design.
eCommerce Homepage Design
Home pages have brand style elements and communicate the brand's value proposition. They also feature benefits, such as free shipping, special offers, and sale. The home page has the purpose of catching attention, introducing product categories, and providing user-friendly navigation. Useful homepages are balanced with the primary information and emotional accent. Show your best offerings, use bold imagery, and communicate your brand power messages.
Greats apply this approach: they use brand elements, main menu, offerings, such as free shipping and promo code, buttons leading to the main categories. If you scroll down, you'll also see the elements of a brand story, such as social responsibility, their story, and how people wearing Greats sneakers share photos on Instagram. This home page delivers on its primary purposes: makes an emotional impression and motivates the customers to go shopping.
Greats, Footwear, the USA
eCommerce Header Design Examples
One of the main page elements is its header. The header must show the brand logo and name, menu, and top pages, like Makia's.
Makia, Fashion, Finland
Sometimes it can show contacts and work hours, or it can be minimalistic and consist just of a hamburger menu and logo. This section is better not to overload.
eCommerce Menu Design
The modern menu tends to be minimalistic and focuses the user's attention on pages to visit. We can observe the tendency of light-weight and small hamburger menus (often consisting of two instead of three traditional lines) and big fonts in the open menu occupying the full web screen. This way, it offers easy access to any website category.
eCommerce Navigation Design
Navigation should show particular categories (by demographics/product purposes/occasions) and be accessible on all modern devices. It can be classic (just with text) or visual (with associated images). Ashley & Co offers an excellent example of the visual menu:
Ashley & Co, Cosmetics, the UK
eCommerce Wishlist Design:
There are many ways to create a good wish list for your online store. However, we should remember about its main goal: to save the goods that the customer liked and bookmark them in one place for further consideration before the purchase.
This is the IKEA's wishlist:
IKEA, Interior, the UK store
It's a well-organized list consisting of the product image and short description with a price, add-to-cart buttons, ability to delete and add the number of items. You can also print your wishlist or learn where you can see these items in-store. Quite handy, right?
Also, you can add the rating or short reviews for each product to remove any doubts, or include the share button to send the wishlist to somebody who is thinking about a present for your customer.
eCommerce Cart Design
The shopping cart is one of the essential elements of the eCommerce website. Talking about the shopping cart icon design, it can be classic or look more creative with the use of illustration.
We should pay attention to the design of the shopping cart page. The right approach is to show the shopping cart in the pop-up or sidebar without page reload. This way, the user can continue shopping without any distractions.
The shopping cart should contain the necessary information: visual identification of the product, its price, buttons to delete items from the cart or increase the number of selected items, shipping costs, subtotal and total, ability to add promo code, and a go-to-checkout button. The shopping cart should focus our attention on the buying process and include only minimally necessary elements.
Let's look at the Prime Ambassador's shopping cart. They provide all the necessary information and use a good trick: suggesting complementary products to increase sales and offering various payment options right at the shopping cart.
Prime Ambassador, Watch, Sweden
eCommerce Checkout Design
We get to the checkout right after the shopping cart. Here is the critical moment: we spend our money and become a happy customer, or we go away because of the complicated checkout process. The checkout must be as simple, as it could be, but so informative, as the customer feels comfortable and confident about their purchase.
The best way to organize your checkout is to offer one-step and guest checkout. One-step checkout means that the user fills all needed forms and pays for the order on one page. It's fast, informative, and user friendly.
Guest checkout offers an ability to make checkout on your website without login and saving any personal detail in your database. This way is quite useful when you want to order a product quickly in two clicks right on the go.
The checkout page design should be simple, minimalistic, and intuitive so that the user can perform all the necessary actions without any doubt and effort. Tiger of Sweden offers a convenient solution for placing an order:
Tiger of Sweden, Fashion, Sweden
Good e-commerce design involves testing, no doubt. There is no single design that works for every product and customer profile, we have seen the same UX perform very differently based on the type of product and buyer (and even when you find the design that you feel is ideal, it will likely not be that in six months). B2B vs B2C buyers a different, demographics, economics, product type, the type of sale it is (one time, subscription), price point, etc. it all comes into play. For the most part yes we do try and not present any extra information (or work!) for the buyer, the idea is to minimize the 'friction' when trying to minimize abandonment and maximize conversion. 
Jason Foodman,
Strategic Advisor for eCommerce & Tech Companies
eCommerce Footer Design
Footer is a vital website element that summarizes the website story. It also should be informative but not overloaded. All links and texts must be readable and have enough contrast with a background.
Here are the things you can include in your footer:
Navigation: product categories, about pages, care guides, etc.;
Links to the privacy policy, terms of use, and responsibility pages;
Contacts: phone, email, physical address;
Payment methods;
Widgets with client reviews (on Google or Trustpilot);
Social media pages.
Other essential elements, such as product and category pages, care guides, look books, and about us pages, deserve dedicated attention. We'll consider them in other posts and focus on the features that help to increase the conversion rate. Stay tuned!
10 Best eCommerce Design Website Examples
That was quite a long but inspiring excursion across the web. Now we are getting to the final round. See the top 10 e-commerce websites from Awwwards selected for your inspiration.
The idea for you: try to find the trends, best practices, and tendencies that we previously considered. Go to each one and pick exciting ideas!
SuperFluid
The SuperFluid brand strikes us with their colorful and catchy website giving you a great mood and positive emotions. They are brave, authentic, and bright. Different visual effects and creative fonts add action to our experience and make it even more exciting.
SuperFluid, Cosmetics, Netherlands
Salty K Swim by Kim Zolciak-Biermann
Solty K Swim is an example of well-structured product categories and an excellent product presentation. The overall website's summer mood brings you back to the seaside. Pay attention to the InstaShop feature, allowing you to see how swimwear looks on real people and shop by clicking on the photo – that's a great idea!
Salty K Swim, Swimwear, the USA
Greats
We turn back again to this brand and look further on their website. So, what we can see: minimalistic look, high-quality images, nothing over, storytelling, and showing brand responsibility – they make the score!
Greats, Footwear, the USA
Orgreen Optics
Orgreen is a premium designer eyewear – and it looks exactly this way on their website. Their design is clean with the use of light lines, soft colors, and bright accents. Look how creatively they play with colors and create the effect of a kaleidoscope (that also associates with optics).
Orgreen Optics, Accessorize, Denmark
George & Willy
This brand makes a great impression right from the home page. It feels cozy and calm, translating the atmosphere of craftsmanship. Light typography and illustrations support this concept, and the overall design creates an association with hand-crafted products.
George & Willy, Design Items, New Zealand
Doucal's
This brand offers luxurious Italian footwear. It supports their positioning with high-quality product presentation using classic fashion looks and natural materials in the interiors on their photos. Their collections look impressive, as well as the navigation menu adding the spice with elements of illustration.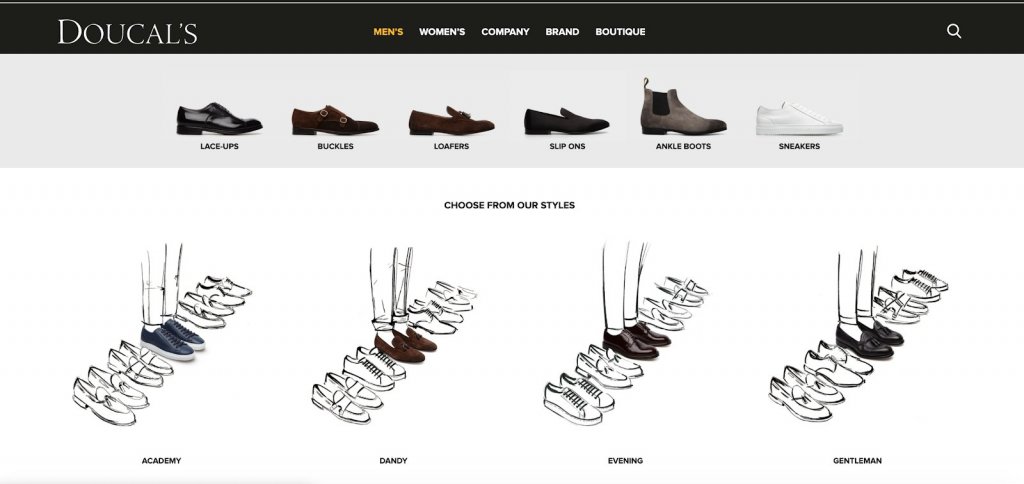 Doucal's, Footwear, Italy
Nudie Jeans
It all starts with a pair of dry denim, precisely like their homepage design. The brand focuses our attention on their jeans, shows the benefits of new models with motion, and provides all necessary information about their stores, repair service, and sustainability views. Perfect product presentation, catchy typography, elements of illustration, and denim-inspired colors help communicate the brand image.
Nudie Jeans, Fashion, Sweden
Organic Basics
This is a perfect example of a nature-inspired brand. Their website design uses a natural color scheme and resonates with its focus on high-quality products made of sustainable materials. The distinct feature of their home page is the intro of how the brand makes a difference with its low-impact website and sustainable way of making clothes.
Organic Basics, Fashion, Denmark
John Nollet
This elegant store makes an impression with its measured amount of colors, stylish fonts, and fashion photos. Illustrations and menu look interesting, involving us to see brand arts.
John Nollet, Accessorize, France
Little Cigogne
This brand brings you back to childhood. Their website is lively and breezy. Lots of white space, bright colors, light website elements, use of handwriting fonts, and illustrations make it look fresh and playful.
Little Cigogne, Children Clothes, France
That's enough for the first time, but there are numerous great websites on Awwwards that are amazing works from all points of view: design and usability. You can get there regularly for a daily portion of beauty and inspiration.
How to Design an eCommerce Website
If you are almost ready to create your eCommerce website, it's a good idea to start with your goals, competition analysis, and discovering your ideal customer. Think about the big idea of your brand and what sets you apart from the other companies. Try to imagine how your brand may look like, and of course, fulfill yourself with inspiration and pick the most interesting ideas.
Find eCommerce Website Design Inspiration
We hope you found something here, but there are plenty of great resources that will help you select the references and discover your niche. There you'll find works of professional web designers from all over the world and will be able to see their portfolios and check out how these beautiful websites work in action. We suggest you visit the following resources:
Use eCommerce Website Design Templates
While creating something custom and unique is a good idea, you can also start from pre-designed solutions and eCommerce website design templates for your online store. It will be much easier and cheaper for rising businesses. With your content and unique images, your web design will look different anyway. You just need to decide what platform you are going to use and select the website theme on one of these resources:
If you need to work with design content, create social media posts, or just make up a mood board with your web designer, here are the best creative and handy tools from professional web designers for not-designers:
Create the Right eCommerce Website Architecture
Finally, before creating a design, your project needs a well-throughout page structure. Before creating any feature, we should understand why we need it, for what purpose it exists. That's why you should train your eye but also test all appealing websites in action: try to find the product like a user and put it into the shopping cart, go to the checkout page. Then evaluate your experience. If you feel comfortable, you deal with a good website design that is worth your attention.
To help you learn more about modern eCommerce websites, we create website overviews explaining how website design works and what features help increase conversion.
Here are some of them:
Let your design be user-friendly, beautiful, and work for your brand growth!
*Our credits: each website mentioned in this article makes an outstanding design example thanks to their website owners who put their hearts into their business projects and talented design teams who worked on these websites.
We are thankful to Awwwards.com for their job and opportunity to get daily inspiration from the masterful web designs and share talented works.
Summary
Thank you for reading our extensive guide. We hope it is useful for your eCommerce project, and you enjoyed reading. Modern eCommerce design is unlimited with creative ideas and concepts. It becomes more authentic, braver, and more elegant. Nature-inspired shapes, thin lines, and oversize typography, handcrafted illustration, motion, and high-quality product presentations make our experience involving. The design must work to grow your business. When you are ready to
create a modern eCommerce website
that delights your customers, we are here to help. If you find this post useful, save it and post it on social media. Let's share examples of talented design works and make this world more beautiful.
Article rating (11 Reviews)
Do you find this article useful? Please, let us know your opinion and rate the post!